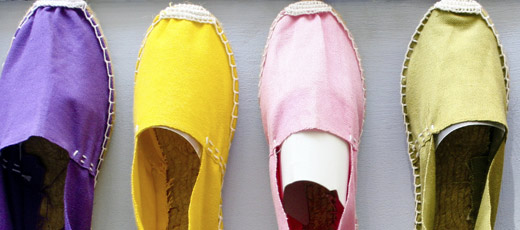 Alpargatas shoes. Spanish alpargatas are often called espadrilles in English. This word originated from the Catalan word for Spanish shoes: espardenya.
Spanish shoes known as alpargatas are often called espadrilles in English. This word came from French, which in turn originated from the Catalan word for Spanish shoes: espardenya. Espardenya is derived from the Catalan word espart, or esparto grass, which is a strong Mediterranean needle grass used to make rope and a variety of other Mediterranean crafts including alpargatas shoes.
In fact, the characterizing feature of alpargatas shoes is that their flexible soles are made of woven rope made from natural fibers. These traditional Spanish folk shoes are flat with the body made of one piece of canvas which is then seamed to the rope sole on both sides. Often, laces are added to wrap around the ankles and secure the shoes in place. Sometimes alpargatas shoes are made in high-heel styles for women, such as the 3.5 inch black wedge alpargatas worn by Penelope Cruz in the 2006 Pedro Almódovar film Volver.
Today, many imitations of traditional Spanish alpargatas can be found.  Some are made with rubber soles that are designed to imitate the look of rope. Cotton fabric is also often used on the upper part and the shoes are now available in just about every color and style imaginable; from extreme bargains to high cost designer brands. Traditional alpargatas are still hand-made and mostly come from Spain, although stiff competition from Asian countries is becoming a challenge to the hand-made tradition.
The origin of alpargata shoes is a topic of debate. It is said that they were inspired by Egyptian sandals to which a slipper was added in order to protect the feet from the sun. The oldest documented record of alpargatas found came from Chaco region of Argentina. However, the most widely accepted theory is that these traditional shoes came from the Pyrenees region between Spain and France, where they were first documented in 1322 and a large concentration of factories existed by 1911.
These factories exported alpargata shoes to Latin America and throughout Spain and France. The shoes were mainly used by the peasant class and male mine and factory workers. These traditional men's Spanish shoes are still available in a variety of men's styles.
Spanish alpargata shoes have grown tremendously in popularity since the 14th century and are still a very common sight during the summer months in Catalonia and the Basque Country regions of Spain. They are also still traditionally used in parts of France, Argentina, Uruguay, Chile, Colombia and Venezuela. Modern and designer styles of these traditional Spanish shoes can be found throughout the world.