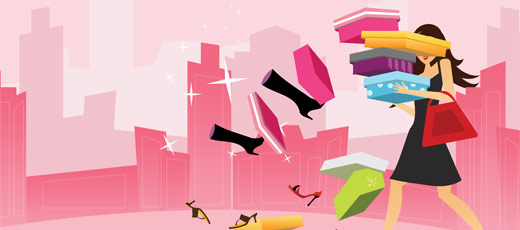 The Spanish fashion is known all over the world through its designers, prestigious international fashion labels and models.
Spanish fashion has found great success all over the world. Spanish designers, models, and internationally celebrated brands have all achieved high praise on runways in Milan, London, New York, and Paris. As frivolous as the world of high fashion may seem, it is a million dollar industry that not only allows national businesses to earn generous profits, but also makes a name for Spain around the world and promotes the use of the Spanish language.
Zara is one example of a Spanish company that has brought fashion fame to Spain. The clothing company is the most well known member of Inditex, a fashion empire made up of hundreds of factories and 1,080 shops in 33 different countries.
Inditex has clothed consumers in Europe, America, Japan, and the Middle East. High-profile Zara shoppers include Chelsea Clinton, who once successfully encouraged her then U.S. president dad to adjust his presidential schedule to accommodate a visit to the Zara store in Ankara while in Turkey.
The story ended up making headlines and creating a bit of free publicity for a company which, unlike its competitors, suffers from a calculated aversion to being announced in the media. The company also received publicity when the American model Cindy Crawford appeared unannounced in a Zara store in Canada.
Inditex and Zara are not the only companies that know how to attract the foreign market. El Corte Inglés, Loewe, Camper, Mango or Pronovias have also earned great international attention. The Spanish firm Pronovias makes wedding dresses, and it is the world's largest producer of their specialty. Ever since its founding in 1965, the company's success has only grown. There are 100 Pronovia stores in Spain, one in Paris, one in New York, and the brand is sold in 1,000 different stores in 40 different countries. Mango is another multi-national clothing company, with over 100 stores around the world. In 1998, Mango's expansion was incredible, opening an average of 10 new stores a month. China and India are the latest countries to open new Mango stores and the company employs more than 4,000 people.
Behind these famous stores are Spanish designers who are busy setting new fashion trends. Some have established themselves first in Spain and then headed to other countries, others have first established themselves in other countries and later earned great respect in Spain.
Notable Spanish designers include Antonio Miró, Agatha Ruiz de la Prada, Pura López, whose products are distributed in Asia, Australia, Latin America, and much of Europe. Then there's Amaya Arzuaga, Pedro del Hierro, Paco Rabanne, and more whose designs are sold internationally.
The designs of Sevillians Victory and Lucchino can be found in the best stores in New York, Paris, Italy, Germany, the United Kingdom and Japan. Other designers have become well known by joining groups such as the Asociación Textil de Galicia, which has famous members including Adolfo Domínguez, Javier Cañas Caramelo, and Roberto Verino. Each member generates millions of Euros each year. Being members of the group has helped them become well known nationally and internationally.
Spanish models have also contributed greatly to Spanish fashion's international recognition, many of whom enjoy the distinction of being referred to as top models. It is not unusual to see the images of Spanish models such as Eugenia Silva on New York's 5th Avenue. Eugenia has also modeled on runways for Yves Saint Laurent, Prada and Christian Dior. She has also appeared on the cover of the Italian and American editions of Vogue and she has done ads for Oscar de la Renta and Clinique.
Vanesa Lorenzo's image has also been on an enormous ad for Gap that appeared at the exit of JFK airport and in New York's Times Square. Esther Cañadas, Inés Sastre, Laura Pone, Nieves Álvarez, Judith Mascó and Verónica Blume are also Spanish models who have walked on runways around the world and have helped bring recognition to Spain and Spanish.