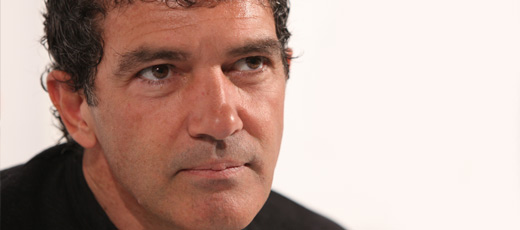 Antonio Bandera's talent in the dramatic arts caught the eye of the director Pedro Almodóvar in 1982.Learn more about this famous spanish actor.
Heartthrob actor Jose Antonio Dominguez Banderas, better known as Antonio Banderas, was born on August 10, 1960 in Málaga, Spain. His dream of ever becoming a professional soccer player was thwarted when he broke his foot at age 14. He transferred his energy to the stage, spending five-years with the prestigious National Theater of Spain, where his talent in the dramatic arts caught the eye of eccentric writer/director Pedro Almodóvar in 1982.
Labyrinth of Passion was the beginning of a mutually rewarding partnership that gave way to such unforgettable releases as 1986's Matador, Law of Desire (1987), and box office hits Women on the Verge of a Nervous Breakdown (1988) and Tie Me Up! Tie Me Down! (1990) which piqued Hollywood's interest in the Latin sensation.
He crossed over to American films in 1992, playing a young Cuban musician in The Mambo Kings. At the time he was cast, Banderas spoke no English words and had to learn all of his dialogue phonetically. However, his screen presence was so intense, it provided the jump-start Antonio needed. He was cast opposite Tom Hanks in the 1993 Oscar-winner Philadelphia, then went on to take a bite out of the big screen -- and some innocent victims -- with fellow blood-suckers Brad Pitt and Tom Cruise in the 1994 blockbuster, Interview with the Vampire. The breakout (leading) role that garnered him Hollywood success was in the 1995 failed film Desperado.
With an impressively long of movies to his name, the actor once saturated audiences with a surplus of movie releases in 1995. This overexposure endangered him in becoming a media burnout, thus delegating the actor to take a break.
Some of his early credits include romancing Glenn Close and Winona Ryder in The House of Spirits, a lover in Miami Rhapsody and a role opposite future wife Melanie Griffith in 1995's Two Much. They married in London 1 year later. In The Mask of Zorro (1998), Banderas got the honor of being the first Latino to represent the 19th-century Mexican masked avenger. He gave voice to Puss the Boots in the 2004 animated movie Shrek and tackled the true-life story of ballroom dancer Pierre Dulaine, who volunteered his time to teach a group of inner-city kids how to dance in the 2006 movie Take the Lead.
The melodramatic nature of his films has made Almodóvar a Spanish cultural reference within his smoldering good looks and great charismatic personality, it is easy to see why this Hollywood conquistador was chosen as "one of the 50 most beautiful people in the world" by People Weekly. Banderas founded his own production company Green Moon Productions, whose name pays homage to Spanish poet Federico Garcia Lorca and received in 2008 the Gold Medal of Arts from the hands of the Spanish King Juan Carlos and Queen Sofía for staying true to his roots as an artist and as a person.