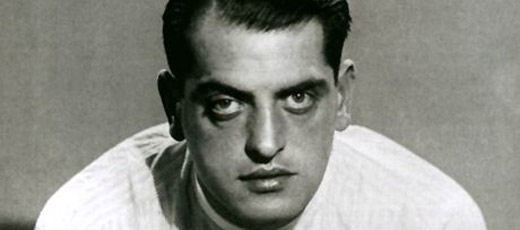 Luis Bunuel. The famous Spanish filmmaker and director Bunuel, along with other artists of his time, headed the surrealist movement in Spain.
Spanish filmmaker and director, Luis Buñuel was born in 1900 in Calanda, Spain - a small agricultural town of about 4,000 in the province of Teruel, Aragon. He is noted as saying his town "slipped by in an almost medieval atmosphere." He was born into a bourgeoisie family that was also landowners. He was also an altar boy, who sang in the choir and was made to attend church regularly. At six years old he was sent to the College of the Brothers of the Sacred Heart. In fact the two themes of his social status and religious upbringing became sources of creative inspiration for his films - more accurately, rebellion, against both motifs.
His next phase of schooling was again, at a strict Jesuit College where he worked on his bachelor´s degree under a curriculum that had not changed since the 18th century. His parents´ influence flamed the fires of the lifelong rebellion towards religion. Buñuel´s work as a film artist was in effect an analysis of his childhood through musical, literary, or imagery.
In 1917 Buñuel enrolled in the University of Madrid to pursue music and the violin and natural sciences. His father however insisted he forget the arts to pursue agricultural engineering. And after studying math for three years, Buñuel effectively hated his studies and the career path he was on.
n 1920 Buñuel sought to study under Dr. Bolivar, an entomologist and director with the Museum of Natural History of Madrid. After a year of studying insects he realized he would prefer to write about the life or literature of insects rather than the finite details of their living habits. Interestingly during this time, living in a student residence in Madrid, Buñuel came into contact with a diverse group of artists and intellectuals.
Attending political events and literary peñas, or cafes, with his new friends: Salvador Dali, Federico Garcia Lorca, and Moreno Villa he further realized sitting in front of a microscope in a lab was not for him and preferred the engaging arts discussions.
Buñuel, along with other artists of the time, headed the surrealist movement in Spain. Creacionismo and ultraísmo were the two camps that writers and artists were broken in to. While Buñuel drew inspiration from these two themes he was often very critical and wary of taking an allegiance to traditional form. Some of the other Spanish contemporaries included: Alberti Guillen, Damaso Alonso, Barradas, Palencia, Vazquez Diaz, Jose Ortega, and Adolfo Salazar.
In 1928 after returning from shadowing and working for the renowned French director Jean Epstein in Paris, Buñuel used his newly acquired filmmaking techniques to collaborate with Dali on Un Chien Andalou. A "surrealist weapon," the movie was made to shock the Spanish bourgeois and criticize the avant-garde.
He continued to develop his surreal movie-making style, travelling between Hollywood and Spain until Civil War broke out in 1936. During the war he worked for the Republican government and created a war documentary titled, España Leal en Armas (1937).
In 1946 Buñuel moved to Mexico, where many other intellectuals had fled with the outbreak of war in Spain. He would stay there for the rest of his life, becoming a citizen and directing over 20 films by 1964. Buñuel continued to attack church and state through film, and by the 1980s he created his autobiography, My Last Sigh. Buñuel died in Mexico City on July 29, 1983, a decorated and celebrated filmmaker.