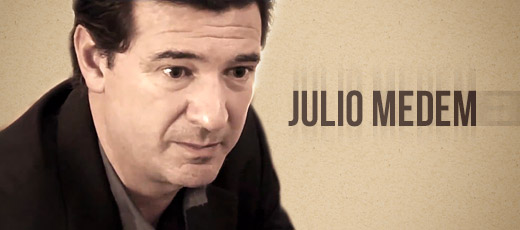 Julio Medem is considered to be one of the most original Spanish film directors, one with a not-so-extensive body of work but with a highly personal style.
In the early autumn of 1958, the stork headed to San Sebastian, Spain to pay a visit to the home of Julio Medem Sanjuán (whose father was German and mother was from Valencia, Spain) and Margarita Lafont Mendizábal (whose father was part of the French resistance and later found refuge in Spain with a Basque woman). Julio Medem Lafont was born into this international mix. He would go on to become one of the most original Spanish film directors, one with a not-so-extensive body of work but with a highly personal style.
After spending a few years in San Sebastian the family moved to Madrid, where a young Julio received a conscientious education. As a boy he would secretly grab his dad's super 8 camera to make home movies with his sister Ana. Then he would edit the films on his father's moviola.
Julio was a sensible child. At fourteen he fell helplessly in love with a girl from the neighborhood who did not share his feelings, which inspired him to begin writing. He not only wrote typically melodramatic heartbroken-teen poetry, he also completed a novel entitled Mi primer día (my first day). He got over his disappointed attempt at finding love by focusing on sports. At 18 he ran the fastest 110 meter hurdles in Spain and he nearly went to Montreal in 1976 to compete in the Olympic Games. Medem abandoned sports however to concentrate on something that had always fascinated him: psychiatry. He took classes at the Department of Medicine in Soria, dividing his time between his studies and his passion for film. During this time he made several short films and contributed to journals such as Cinema 2002 and Casablanca while writing movie reviews for the newspaper La voz de Euskadi.
In 1979 he returned to San Sebastian for the second phase of his studies in medicine which culminated three years later. In 1985 he won several awards for his short film Patas en la cabeza, his first 35 mm work. He also worked on short and feature length films with other directors and he edited his own documentary El Diario Vasco.
Medem wrote the script for his first full-length movie entitled Vacas for which he spent two years in search of funding. By the time he was finally able to make the movie, which won a Goya Award for best new director and awards in Tokyo, Turin, London, and Montreal, he had already finished the script for his second movie, La ardilla roja. With this second effort he won a prize in Cannes and caught the attention of Stanley Kubrick, who recommended him to Steven Spielberg. Spielberg offered Medem the job of directing The Mask of Zorro. The Spanish director however decided he was not interested in making a Hollywood movie.
The birth of his daughter Alicia, who has Down syndrome, also had an important impact on his film career. He named the movie production company he created in 1997 Alicia produce after her.
While filming Tierra, his third feature length film, he met his second wife Montse Sanz. She has been the art director on all his movies ever since. His fourth full-length movie, Los amantes del círculo polar, earned him great international success. One curious fun fact about the film: Julio's last name, Medem, is a palindrome just like the names of the two main characters: Otto and Ana. Later, he recreated the film's tragic ending in Lucía y el sexo, which earned great box office success in Spain and beyond.
La pelota vasca. La piel contra la piedra is a documentary Medem made in an attempt to offer a vision of the complexity of the Basque conflict during a time (2003) of frequent ETA activity. It ranks as one of the most watched documentaries in Spanish theatre with over 375,000 viewers.
In 2004, during the Iraq War, he participated in a film criticizing the government of the time in Spain and its leader José María Aznar. In 2007, Caótica Ana premiered, a film dedicated to and inspired by his sister, who died in an accident in 2001. The film was an economic failure, but his Room in Rome, his first English language film, rose out of the ashes of failure like the mythical phoenix. That same year (2009), he made Yo, también, which won the Concha de Plata at the San Sebastián Film festival for best actress and best actor. The actor, Pablo Pineda, was the first European person with Down syndrome to earn a university degree.
In 2014 he made his last movie for the moment: Ma ma, with Penélope Cruz and Luis Tosar. This is the seventh full-length film from a director who despite having just a handful of works in his portfolio, has been able to garner the respect and admiration of film enthusiasts. He has also known how to create his own universe, which makes his work immediately identifiable.