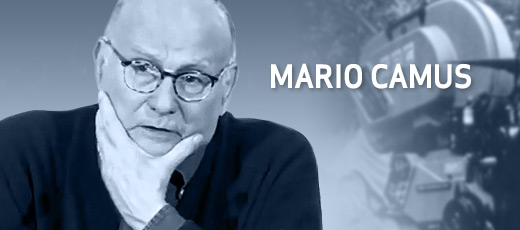 Mario Camus. This highlander from Cantabria, who was born on the eve of the Spanish Civil War, forms part of a generation of renowned Spanish filmmakers.
Cinema is fed by the genius of writers, actors, musicians and directors who work to bring to life their ideas on the big screen or on our electronic gadgets. Throughout the history of Spanish cinema, we can find the names of those that have made found a place of honor in the Olympus of film based on the merit of their work. This is case of Mario Camus, screenwriter (although I prefer the term film writer) and movie director.
This highlander from Cantabria, who was born in Santander on the eve of the Spanish Civil War, forms part of the generation of renowned filmmakers like Carlos Saura, Basilio Martín Patino, Miguel Picazo and José Luis Borau. These filmmakers became the standard bearers of what would be known as Nuevo Cine that appeared in the 1960's when the Franco dictatorship began to lose its aggressiveness thanks to its apparent establishment in power foreseeable continuation.
Camus is a timid man who is very protective of his privacy which probably explains why there are so few details about him growing up during his years in Cantabria. We know that he studied law in Madrid, studies he dropped out of in 1956 so that he could enter the Instituto de Investigaciones y Experiencias Cinematográficas, today known as the Escuela Oficial de Cine (Offcial Film School). Twentysomething Mario Camus made this drastic change in his life thanks to his friend Basilo M. Patino who was five years older than Mario. At that time, Basilo was making his first short film: Imágenes sobre un retablo. Contact with this world of celluloid and his endless reading of the Italia magazine Cinema Novo were enough to make Mario change his mind. His years spent at the IIEC were for studying, watching all the movies he could and writing like a man possessed. He collaborated with Carlos Saura on the screenplay for The Delinquents (Los  Golfos). He wrote his own screenplay based on the literary work of Ignacio Aldecoa, which takes place in the world of boxing: Young Sanchez. This would be the first of many of would become a Camus trademark—adapting literary works to the cinema and which has been well received by the audience and critics alike.
His first movie as a director was assigned to him: Los Farsantes. After directing his first movie he made Young Sanchez using his own screenplay. He made some movies to with singer Raphael to carry him over until he could direct his second movie. This movie was an adaptation of the work by Aldecoa, Con el viento Solano  and with whose work he would later return to the screen with in 1975 in Los Pajaros de Baden-Baden.  In 1972, Camus adapted the Lope de Vega classic, La leyenda del alcalde de Zalamea.
In 1982, he achieved international success with La Colmena which is based on the novel of the same name by Camilo José Cela. He received the Golden Bear at the Berlin Film Festival for this film in 1983. La Colmena or The Beehive is a movie that tells the story of a group of people in post-war Spain that frequent a café in Madrid where they share with one another their hopes, fears, miseries and dreams. This movie paints a magnificent portrait of Spain during that time—using Madrid's melting pot to reflect what was happening throughout the country at that moment.
Two years later, together with Miguel Delibes, he wrote the screenplay and directed Los santos inocentes. This Vallisoletano's story uses magical realism to show the harshness of the lives of a pauper family living on a farm in the middle of nowhere in the Extremeñan countryside close to the border with Portugal. In this setting during the 1960's, we see the relationship between rich señoritos, who are the land, homes and the lives of their servants. The stars of the film, Paco Rabal and Alfredo Landa received jointly the Award for Best Actor at the Cannes Film Festival.
Later, Camus wrote and directed the theatrical work of Federico Garcia Lorca's La casa de Bernarda Alba. This was a very literal version of the theatrical work from this deceased Granadin poet and playwright, who is also a symbol of the victims of the violence of the Spanish Civil War.
From this moment on, he made a version of the literary work, La rusa, based on Juan Luis Cebrián's novel. He also focused more on his own works taking to the screen stories that personally touched him as happened with his experience with the terrorist group ETA in two films: Sombras de una batalla (1993) and La playa de los galgos (2002). He also made films that were very critical of Spanish society in Después del sueño (1992), Adosados (1997) y El color de las nubes (1998).
In 1999, he brought to the screen a story about Barcelona written by his friend Eduardo Mendoza, La ciudad de los prodigios.
His last movie, El prado de las estrellas (2007), is sweet story about love and sports.
In addition to his work in film, Camus has been a prodigious creator of television content with well known series' that have become an important part of the Spanish collective memory like: La forja de un rebelde, Los desastres de la Guerra, Fortunata y Jacinta, Cuentos y Leyendas  and the extremely popular Curro Jiménez.
Camus received the prestigious  Premio Nacional de Cinematografía in 1985 and the Goya for best screenplay in 1993 for Sombras de un a batalla. In 2011, he received an honorary Goya for his lifetime achievements in the world of Spanish film.