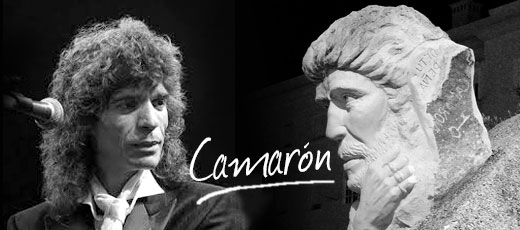 Camarón de la Isla. At five years of age, José Monje Cruz was already standing out as a "cantaor flamenco", a flamenco singer.
On December 5, 1950, a child was born in San Fernando de Cadiz. This boy was the seventh child born to a gypsy family headed by Luis Monje who was a blacksmith and his wife, Juana Cruz, a basket weaver. The child, José Monje Cruz, would receive the nickname that would make him famous around the world when his uncle, upon seeing him in the crib, lanky and with skin too light and hair too blond to be a gypsy exclaimed "he looks like a shrimp!" Because San Fernando is located on the Isla de León (Island of León), completely separated from the mainland by a stretch of water called the Caño de Sant Petri which connects the Atlantic with the bay of Cádiz, his nom de guerre would also include de la Isla. In the end his complete artistic name would be Camarón de la Isla.
Flamenco Music
At five years of age he was already standing out as a cantaor flamenco (flamenco singer), gaining the attention and disbelief of everyone that heard him sing. As a boy, because of the financial difficulties that his family was subject to, he was admitted to the Colegio del Liceo on an economic scholarship but he dropped out after a short time to help his father in his metal workshop. Camarón would stop going to school definitively when his father passed away due to asthma when he was 7 years old. Camarón would have to help support the family financially by going to straight to work. The home where Camarón and his family lived was a place frequented by flamenco singers who passed through San Fernando on their travels around the country. Because of this, little Camarón was able to meet in his own home many artists and, notably, two flamenco legends: Manolo Caracol and Antonio Mairena. With these two artists as his role model, little José began to sing in bars and the tram station in San Fernando. By doing this, the little José earned would go towards the family's expenses.
When Camarón was 12 years old, he participated in a flamenco singing contest that took place at the Montilla Festival in Córdoba. It is here where he came in first place and his life would forever change. The young Camarón de la Isla was now a professional cantaor. Top help him n his career, his mother, in1963, falsified official documents so that he would appear to be older than he really was so that he could participate in the Feria de Abril (Seville Fair) in Seville. It is here where he sang and met up with the man who had spent time in his home years earlier, Antonio Mairena, and left him speechless upon hearing the quality of young Camarón's voice.
Camarón, now 16 years old, traveled alone to Madrid to sing in a famous tablao (flamenco club) in the capital: Torres Bermejas. Many performances later and still wanting to do more, young José looked for more work and opportunities to sing and found other tablaos around Madrid to work in. It is here, in Madrid, where he found Paco de Lucía. Three years older than José and already an established and respected flamenco guitarist or tocaor, they joined forces to start a collaboration that would last Camerón's career. Together, they would record nine records without a break starting with Al Verte las Flores LLoran (1969) to Castillo de Arena (1977). In 1976 Camarón married the woman of his life, Dolores Montoya, La Chispa. Together they went on to have four children. It is also from this moment that Camarón de la Isla would simply be called Camarón.
1979 marked a turning point in Camarón's musical career. Vanguard music producer, Ricardo Pachón (Rafael and Raimundo Amador or Pata Negra and Kiko Veneno), known for pushing the envelope of flamenco music, took Camarón under his wing. Together, they worked on an album that would become a milestone as well as a watershed moment for new flamenco. The album La Leyenda del Tiempo, with Tomatito on guitar, introduced flamenco infused with the poetry of Federico García Lorca and is considered to be a revolutionary recording that also turned flamenco purists on their ear. Many purists were horrified when this album came out since it included elements of jazz and rock –something unthinkable within the sacred world of flamenco. At the time this album came out it was a flop, only managing to sell 6000 copies but today is considered a reference within flamenco circles. However, the failure to sell well didn't stop this album from definitively signaling the movement that would become known as the Jóvenes Flamencos (Young Flamenco Artists) that opened the doors of pure flamenco to artists from other genres like jazz musicians Jorge Pardo and Carles Benavent. Camarón would subsequently record with these two.
From this moment on, groups of gypsies and flamenco purists went to performances of this new group of flamenco artists in tablaos and festivals. Suddenly, a new group of fans were buying more albums in which the fusion with other genres was becoming more common. During this time Camarón developed an artistic double life: flamenco purist on the one hand and a pioneer on the other. Examples of his purist side are the albums that were recorded between 1981 and 1984 with Paco de Lucía. Without flinching, Camarón and Paco took the leap to symphonic music (another bow to modernity). In 1989 they recorded the album Soy Gitano with the Royal Philharmonic Orchestra.
During the recording of the album Potro de Rabia y Miel in 1991, Camarón was diagnosed with lung cancer. During this time, Camarón was recovering from a very difficult program to overcome his addiction to heroin and cocaine; a time during which he was also smoking 6 packs of cigarettes per day. In his effort to find a cure, he travelled to the United States for treatment. Upon returning to Spain he continued his treatment which included a 3 month period of rest. In May of 1992 his album Potro de Rabia y Miel was released along with cover art by famous Spanish artist, Miquel Barceló and produced by Paco de Lucía. This would be Camarón's swan song since he passed away on the second of July two months later. The burial of Camarón took place in his native San Fernando where a massive showing of grief was expressed by 50,000 people that surrounded the church to say good bye the cantour whose casket was covered in the flag of the Romani people.
A man died but a legend was born. In 2005, Spanish director, Jaime Chávarri, filmed Camarón. This Biopic, written José Monje Cruz, has contributed to maintaining his memory alive despite the passing of the years.
In the same way that Argentines praise tango artist Carlos Gardel, there are many aficionados of flamenco that say: "With every passing day, Camarón sings even better".