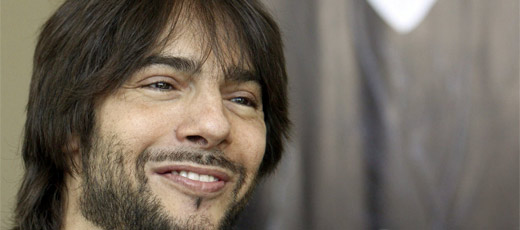 Joaquín Cortés is a famous flamenco dancer with gypsy origins that born in Córdoba, and is considered one of the greatest flamenco dancers of all time.
Joaquin Cortes, who is of Gypsy origin, was born in Cordoba in 1969. He moved to Madrid at twelve years old, where he began his dance training. He entered the National Ballet of Spain at fifteen and soon became a soloist. Joquin Cortes toured internationally with this company performing in the Metropolitan Opera House in New York and the State Kremlin Palace in Moscow.
After leaving the National Ballet, he participated in a series of gala events with world famous figures such as Maya Plisetskaya, Silvie Guillen, Schauffus, Pere, Marie-Claude Pietragalla and Julio Bocca. He also collaborated with various companies making appearances in shows as a special guest or working as a choreographer. Among this work, most notable is his choreography of the opera Carmen in the mythical Verona Arena, his participation in the Summer Flamenco Festival of Tokyo, a variety of performances in New York's Lincoln Center and his appearance in the classic novel Don Quijote with the Ballet of Caracas.
After performing in the Theatre des Champs-Elysees in Paris in 1992, Joaquin Cortes founded his own company, the Ballet Flamenco Joaquin Cortes. His first show, Cibayí, toured all over Spain and travelled to Japan, France, Italy, Venezuela and the United States. In 1995, Pedro Almodovar chose him for his first film role in The Flower of My Secret (La flor de mi secreto). Later, Joaquin would repeat the experience in front of the cameras in Flamenco, by Carlos Saura, in which he shares the screen with the best Spanish flamenco artists.
His second creation, Gypsy Passion (Pasión gitana), premiered in 1995 with the participation of Giorgio Armani as wardrobe designer. Pasión Gitana was performed all over Spain, not only theaters, but even in bull rinks. The show was also a success in Europe. It was the first dance performance to close the prestigious Spoleto Festival (Italy) in its forty eight year existence.
In 1997 Joaquin Cortes recorded a CD with his own band The Gipsy Passion Band, for which he composed and directed the music and collaborated on the percussion.
After creating new choreographies for Pasión gitana in 1997, the show continued its tour of Latin America and achieved great success in festivals in Sydney, Tokyo, Canada and New York, this last city to which he moved in early 1999. His work with choreographer Debbie Allan appeared in the Oscar ceremony of that year. The fruitful year would also take Cortes to the opening ceremony of the World Championships in Athletics, which was being hosted by Seville. That same year, he also presented his show Soul in Barcelona.
In 2000, Joaquin Cortes returned to the screen, this time in a leading role, with the film Gitano (Gypsy), as he continued touring with the show Soul in Europe, China and in South America, where he participated in the opening ceremony of the International Viña del Mar Song Festival in Chile in 2001. That year, he launched two new productions: Pura Pasión (Pure Passion) which opened in London and Live in Barcelona.
In Oslo, in 2002, Joaquin Cortes participated in a concert given for the Nobel Peace Prize award ceremony in Oslo's Spekrum arena.
Cortes returned to film in 2003 again as the main character in the movie entitled "Vanilla and Chocolate" by the Italian director Ciro Ipolito. Two years later, he presented his shows De amor y de odio (of love and hate) and Mi Soledad (my loneliness) in Milan and in Mexico.
European parliament named Cortes Ambassador of the Roma people toward the end of 2006 and he gave a speech there that was referred to as "emotional" and "intense". Continuing his representation activities, he joined Jose Carreras and Dulce Pontes in the ceremony of the presentation of the Seven New Wonders of the World, which took place in Lisbon in 2007. His international fame also lead him to be: named Ambassador of Climate Change, awarded the Lunas Award in Mexico and to be awarded the Gold Medal of Fine Arts by the Spanish government.
Dancer-flamenco bailaor, choreographer, film actor, the inspiration for video game characters, and permanent fixture in the tabloids, Joaquin Cortes is a leading figure in the world's new Spanish flamenco arts.