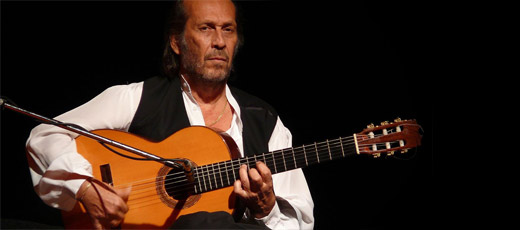 Meet Paco de Lucia, famous flamenco guitar player, and discover the flamenco world with his song Between Two Waters. Paco de lucia, Andalusia, Spain.
Francisco Sanchez Goméz, Paco de Lucia, was, and continues to be, Spain's most international flamenco guitarist. His Spanish guitar playing is known to express the passion and sentiments of both Andalusia and Spain. His most famous song "Between Two Waters" (Entre dos Aguas) is one of the most recognized Spanish classical guitar tunes in the world.
Paco de Lucia, son of a Spanish father and a Portuguese mother (Lucia Gomes), was born in Algeciras, Cadiz (Spain) on December 21, 1947. In the neighborhood where the musician grew up there were many children named "Paco" and "Pepe". In order to distinguish them, people began to reference whose child they were, for example: "this is Lucia's Paco", which in Spanish is: "ese es Paco, de Lucía". This is how the flamenco guitarist earned his artistic name: Paco de Lucia.
Paco de Lucia's father and brother, Ramon de Algeciras, another famous guitar player who played with Paco for several years of his career, began to teach him how to play the guitar at an early age. Paco's other brother, Pepe de Lucia, is a famous cantaor, or flamenco singer, who has also collaborated with him professionally.
One of the highlights of Paco de Lucia's career was in the 60's when he collaborated with Camaron de la Isla, one of the most famous flamenco singers. This was a legendary musical union in Spain and resulted in 10 successful records that represent a pure and orthodox, yet original Flamenco style. Their post 1977 work would evolve, both together and separately, into a more popular flamenco style that incorporated rock, jazz and pop.
Paco de Lucia's two biggest influences were Niño Ricardo and Sabicas. Niño is another important flamenco guitar player and Sabicas was the one who perfected the art of flamenco guitar playing. With the latter, the guitar stopped being just accompaniment to the singer but rather a principal figure in the flamenco performance. Sabicas also invented two widely used flamenco techniques: the alzapúa cord technique and a three finger strumming technique.
The international popularity that Paco de Lucia gave to the flamenco world is considered his biggest contribution. He was able to popularize flamenco in other countries because of his mixed musical style and incorporation of other rhythms into traditional flamenco. His work opened the door to new musical experiments in flamenco of great artistic quality.
Paco's personal style is characterized by his grand virtuosity of guitar playing and strong, rhythmic yet unique style that can be enjoyed in many of his performances like "Entre dos aguas", "La Barrosa", "Barrio la Viña", "Homenaje al Niño Ricardo", "Almoraima", "Guajiras de Lucía" and "Río Ancho".
In one of Paco de Lucia's many trips to Latin America towards the end of the 70s, he met Carlos "Caitro" Soto de la Colina in Peru, an afro-Peruvian musician and cajón box drum percussion expert. Paco de Lucia recognized that the cajón box drum could solve a percussion problem that flamenco music constantly experienced. So he, with the help of Rubem Dantas, introduced the instrument to the other typical flamenco percussion instruments and from that moment the cajón box drum became an indispensable instrument in modern flamenco. In 1992 Paco de Lucia suffered a brutal loss with the death of Camaron de la Isla, with whom he had shared so much.
In 1998, he created one of his masterpieces, an album called Luzía, that he composed during his mother's long illness that would eventually result in her death. He dedicated the album to her.
In the year 2004, Paco de Lucia received the Prince of Asturias Award, a prestigious Spanish recognition. The spokesperson who gave him the award explained that "everything can be expressed with the 6 cords of the guitar in Paco's hands".
Unfortunately, on 25 February 2014, Paco de Lucía passed away from a heart attack while vacationing in Mexico. This singular musician will be missed but fortunately we have his recordings to accompany us into the future.