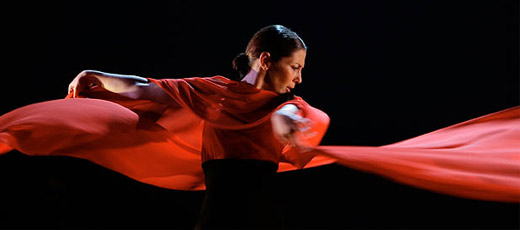 Sara Baras was born in Cadiz and began studying dance in San Fernando at the school of her mother, Concha Baras, when she was just eight years old.
Sara Pereyra Baras, known as Sara Baras, was born in San Fernando, Cadiz (Spain). She began studying dance at her mother's school (Concha Bara) when she was just eight years old. As a member of the group Los Niños de la Tertulia Flamenca, she traveled to all the regions where flamenco is played, sang and danced. She also danced in front of S.M. Doña Sofía, the Queen of Spain. At the age of 18, she won first prize in the contest Gente Joven (young people) which aired on Spanish national television.
In 1989, she danced with Manuel Morao's company and performed in the Alhambra 89, Festival of Flamenco Theater in Granada. In 1991, she performed with that company for two months in the Eduard VII Theater in Paris. At the 1992 World Exposition in Seville, she danced in Manue Morao's show in the Auditorio de la Cartuja. Later that same year, she performed at the Town Hall theater in New York. In 1993, the city of Montellano, Sevilla awarded her the Madroño Flamenco, a prize given to the most notable flamenco artist of the year.
In 1994, during Caja de Ávila's Flamenco Week, she danced in accompaniment to the singing of Enrique Morente. That same year, she went on a two month tour of various European countries with Paco Peña's company. IN 1994, she participated in the 23rd Festival of Song and Dance of Andalusia, where shared star billing with famous flamenco artists. Toward the end of that same year, she embarked on a tour of Asia, performing in Taipei, Seoul, etc. Sara Baras spent a year (1996-97) performing with Antonio Canales as a guest performer in the production Gitano (Gypsy). The show was presented at the Seville Flamenco Biennial Festival and later at the Madrid Autumn Festival in the Teatro Albeniz  and then at the Théêtre des Champs-Élysées in Paris.
In 1997, Sara Baras presented her own company, with great critical and public success, at the closing of the 37th Festival de Flamenco del Cante de las Minas. On April 2, 1998, with her company composed of herself, seven dancers and seven musicians, Sara launched a show entitled Sensaciones (sensations). Sensaciones is not conventional theater, but an exploration of the diverse forms of flamenco.
Toward the end of 1998, Sara Baras participated in La Huella de España as a guest artist. The program was organized by SGAE (Sociedad General de Autores de España, general society of Spanish authors) to celebrate the hundredth anniversary of Cuban independence. In October of 1998, Sara hosted the television program Algo más que flamenco on the channel TVE-2.
The following years bore witness to non-stop activity: in 1999, Sueños premiered. She also presented shows centered on female historical figures (real or literary) of Spain such as Juana la loca (daughter of The Catholic Monarchs, King Ferdinand II of Aragon and Queen Isabella I of Castile) and Mariana Pineda (the protagonist of a play written by Federico Garcia Lorca). It was in the Lorca museum-home in Granada that Sara Bara danced in a concert-performance with the Mexican singer Chavela Vargas. She performed in Cadiz, at the Palau de la Música in Barcelona, at La Alhóndiga de Guanajuato in Mexico, in the Festival of Theater of Bogota and at Luna Park Theater in Buenos Aires. She also starred in Iberia, a movie-documentary by the prestigious movie director Carlos Saura.
The dancer's limitless supply of energy helped earn her the National Prize for Dance in 2003. In 2005, she continued travelling around the world (only not going to Africa) with the Sueños tour. Toward the end of the year, the show Sabores premiered, which finalized a trilogy of works also made up of Sensaciones and Sueños.
2006 was a year in which Sara, in collaboration with the famous tenor Josep Carreras, created a show that paid tribute to Spanish musicians such as Falla, Albéniz, Turina and the poetic figure Federico Garcia Lorca. The show was hailed as a great success.
Sara Baras continued showing interest in female historical figures in 2007 when her personal version of Carmen opened at the Gran Teatre del Liceu de Barcelona. Sara directed and choreographed the show.
Sara Baras is a popular personality who is constantly present in the world of the performing arts and in spheres quite unrelated to dance. Spain's National Coinage and Stamp Factory used her image in a series of postage stamps that were presented at the World Philatelic Exhibition that took place in Madrid. She has modeled on runways for the fashion designer Amaya Arzuagea, and she has presented, together with members of her company, a lingerie collection for Triumph. Her image was also used by Cartier. She was even named "the face of Andalusia" as tourist ambassador of her home region.
Sara Baras seems to have an endless supply of energy, unlimited glamour and creativity with no limits… which is even reflected in her name. Indeed, take a closer look at her name; Sara Baras is a palindrome (it says the same thing from left to right as it does from right to left).