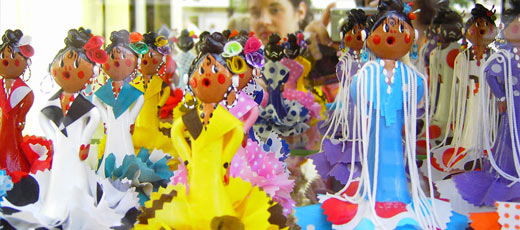 The flamenco dance wear is a costume Spanish dress worn by female flamenco performers.Learn more about the Spanish flamenco dress.
The flamenco dance wear (traje de flamenco) is a costume Spanish dress worn by female flamenco performers. Spanish flamenco dresses provide an important visual element to flamenco shows. The dress transcends classification as just a regional costume and incorporates an important part of cultural identity.
The dress is figure-hugging, ankle length, with ruffles in both the layered skirt and the sleeves. The most common colors for flamenco dresses are red, black and white but they are typically bright colored. The most typical Spanish flamenco dress features a polka dotted pattern (traje de lunares), but they can also be plain dresses with no pattern. The flamenco dancer normally appears with her hair in a bun, a mantle (similar to a shawl) on her shoulders and high heels. Over time the flamenco costume has become richer in color and has adopted adornments and compliments such as lacing, embroidered ribbons, flowers, costume-jewelry and hand fans.
Flamenco clothes are now thought of as traditionally Andalusian clothes but actually originated from the Spanish Gypsies (Romani people) in the 19th and early 20th centuries. Women, dressed in calico gowns with ruffles, accompanied livestock traders that gathered at the Prado de San Sebastián for what would become Seville's Feria de Abril (April Fair). Their look, over time, was adopted by women of other classes and in 1929 even distinguished ladies appeared in traditional flamenco dress at the Ibero-American Exhibition. Eventually the Spanish dress from Andalucía would become the official outfit for the Seville Fair.
Flamenco dance wear has changed over time and become more widespread in use. In the 1960s and 70s, Spanish flamenco dresses began appearing with shorter skirts. However, by the 1970s the dresses returned to their traditional longer form. By the early 21st century, Spanish flamenco dresses were available in a wide variety of colors, patterns, sleeve lengths, and ruffle amounts.
The unique look of flamenco dance wear inspires designers from all over the world to produce their own flamenco dress styles by combining tradition and innovation. Victorio & Lucchino have their own line of flamenco costumes and designers like Saint Laurent, John Galliano, Valentino Garavani and Tom Ford have been openly inspired by the genre. In fact, each year at the International Flamenco Fashion Show in Seville designers present the latest trends in flamenco clothing.
Flamenco clothing has stood the test of time and will continue to reinvent itself as an important part of the Spanish culture and tradition.