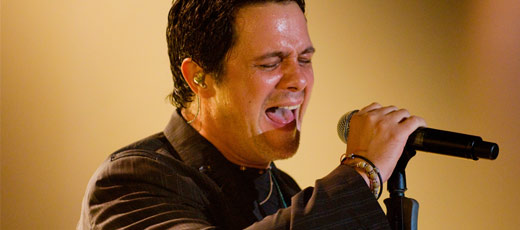 Learn more about Alejandro Sanz, one of the most famous Spanish musician and his songs - corazon partio, si tu me miras, el alma al aire, pisando fuerte
Alejandro Sanz is the artistic name of Alejandro Sanchez Pizarro; singer, writer and internationally famous Spanish musician. During his long career, Alejandro Sanz has sold more than 25 million albums around the globe and has won 3 Grammy awards and 16 Latin Grammy awards.
Alejandro Sanz has collaborated with many Spanish artists such as Nina Pastori, Malu and Joaquin Sabina as well as international musicians such as The Corrs, Shakira, Juanes or the Brasilian singer of Spanish origin, Ivete Sangalo, with whom Sanz interpreted the song "Corazón Partío" en the Maracana stadium in Rio de Janeiro.
Alejandro Sanz was born in Madrid on the 18th of December in 1968. His parents were from Algeciras and Alcala de los Gazules, both from the Spanish province of Cadiz. Alejandro grew up in a musical environment, especially since his father, Jesus Sanchez Madero, was a member of two different musical bands.
The Spanish artist began his career at a very early age. When Alejandro Sanz was just 16 years old in 1988 he recorded his first album called Los Chulos Son Pa´Cuidarlo under the artistic name of Alejandro Magno. Today, this album is a sought out collectable due to the scarce number of copies available.
In 1991 Alejandro Sanz's career started to take off with the album Viviendo Deprisa, produced by Nacho Mano and Miguel Angel Arenas. The album is made up of 10 songs written by Alejandro Sanz; the most recognizable of which is the song "Pisando Fuerte". The record, full of romantic ballads, was especially popular among the female population.
Alejandro Sanz's next album, Si tu me miras, was released in 1993 and was produced by the same people as Viviendo Deprisa , with the addition of the flamenco guitarist Paco de Lucia. Alejandro Sanz has always shown great admiration and thankfulness towards Paco de Lucia, who greatly influenced the singer. The two became great friends and Alejandro Sanz eventually acted as an artistic mentor for Malu, Paco de Lucia's niece, helping her launch her career.
In 1995, Alejandro Sanz recorded his fourth album called 3 in Italy. The production was well promoted and opened the doors for Alejandro's music to reach both the European and American market. 3 went on to sell two and half million copies around the world.
It was not until 1997, however, that Alejandro Sanz would truly achieve international fame with the release of a new album called Más. The song "Corazón Partío" would go on to be heard on radio stations around the world. The great success of this album led Alejandro Sanz on his first world tour, Concierto: Tour Más. The tour took place between 1998 and 1999, during which time the Spanish singer played concerts in Argentina, Chile, Brazil, Peru, Venezuela, Mexico, USA, Portugal, Italia, UK and various Asian countries.
In the year 2000, Sanz released El Alma Al Aire, his first record produced entirely in the USA. The album meant that another large tour was in store for the Spanish singer who went on to give a concert in the Vicente Calderon Stadium in Madrid to more than 60,000 fans. Thanks to his success, the same year Alejandro Sanz was featured in MTV Unplugged. The Spanish musician went on to release more albums over the next years including No es lo Mismo in 2003, El Tren de los Momentos in 2006 and Paraíso Express in 2009.
In 2005, Alejandro Sanz paired up with the Columbian singer Shakira. They sang a famous duet called "La Tortura" from her alum which went on to achieve stunning success in Spain, Mexico and the USA. In fact, Alejandro Sanz became the first Spanish singer to open up the MTV Video Music Awards when he performed the hit song with Shakira.
Currently, Alejandro Sanz is working on a new album that is scheduled to be released in 2012 and also appears on the program "La Voz… Méjico" as a judge.