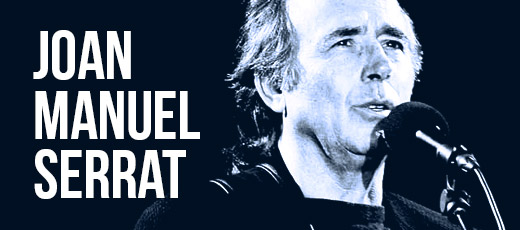 Joan Manuel Serrat. His music is a fundamental part of the soundtrack of the lives of Spanish speakers on both sides of the Atlantic.
One of Barcelona's most popular neigborhoods is Poble-sec, located between Paralelo Avenue and the Montjuïc area. Workers from all over Spain settled In Poble-sec for many years during a time of internal migration previous to the foreign immigration of the last few decades. Joan Manuel Serrat Teresa was born here in 1943 on December 27, the eve of Innocent Saints Day (a day characterized by practical jokes, similar to April Fools Day). His father was Catalan and his mother from Aragon, both were part of the losing side of the Spanish Civil War. The atmosphere he experienced both at home and in his neighborhood would have a strong impact on the young Joan Manuel.
He studied at the Universidad Laboral de Tarragona, where he earned a degree in lathe operation. Later he studied to become an Agronomist. He graduated, but he had also begun playing the guitar and composing music. At 22 years of age, he performed on Barcelona Radio and shortly afterward he was offered the chance to record his first record.
His first LP, Ara que tinc vint anys (now that I'm 20 years old) appeared in 1967. He had already joined the Catalan music movement Nova Cançó (New Song) as member number 13 of Els Setze Jutges (the 17 judges), who found inspiration in the French language chanson by figures such as Brel, Brassons, and Léo Ferré. One of the principles of the group was to defend the Catalan language during a time when the Franco Regime imposed the monolingual use of Spanish.
In 1968 he was selected to represent Spain on Europe's annual televised music festival-competition Eurovision, where he was to perform a song composed for him by M. de la Calva and R. Arcusa. Serrat however would never end up participating in the festival because he refused to sing the song if it was not in Catalan. He was substituted by Massiel, who won the competition with her song La, la, la. This confrontation with the federal government in Madrid and its cultural centralism would last until after the death of dictator Francisco Franco in 1975.
He recorded more albums in Catalan before making Dedicado a Antonio Machado, poeta, a work that was a surprising commercial success considering the fact that his music was banned from being played on Spanish radio. The album has not only not become dated with time but has actually gotten better, like a fine wine, and it contributed to the popular recognition of Antonio Machado, a victim of the Civil War and a persona non grata for the regime. In 1969, Serrat went on his first Latin American tour, where he still goes on tour every year.
In 1971 he edited Mediterráneo, an album that included a song of the same name which was chosen by Rolling Stone magazine in 2006 as the best Spanish language song of the 20th century. A year later, he continued the task of popularizing and paying homage to Spanish Republican poets with a record dedicated to Miguel Hernández. In 1975, as Franco neared his death, Serrat had to spend a year in Mexico after speaking out against the final death sentences ordered by the Spanish government. Serrat could not do his annual tour of Latin America because the government of Chile refused to allow him to enter the country.
After the warrant for his arrest was annulled, he returned to Spain and actively participated in election campaigns for the PSOE (Spanish Socialist Wokers' Party).
Serrat spent the next twelve years tirelessly producing material (an album a year) until he recorded his first work in CD format, leaving vinyl in the past.
At this point, Serrat's artistic career took a new direction, with the production of new albums and collaborations with other artists, particularly with his good friend Joaquín Sabina. The pair would go on to make albums together and go on tour as a duo throughout Spain and Latin America, achieving a level of success rarely achieved by singers approaching their 70s. Together they recorded Dos pájaros de un tiro, La orquesta del Titánic, and En el Luna Park (2012), which is for the momento the latest offering from this pair of crooners. A solo Serrat has edited Serrat en la viña (2013) and Antología desordenada (2014).
Joan Manuel Serrat has accumulated an impressive list of awards and honors which includes the National Department of Culture Prize, Català de lÁny (Catalan of the year) from El Periódico de Catalunya in 2004, an honorary degree from the Universidad Complutense de Madrid in 2006 for his "contribution to Spanish culture in general and particularly to Catalan culture, the Medalla al Mérito en el Trabajo, the Medal of Honor from the Catalan parliament, and Knight of the French Legion of Honor in 2007. The Spanish Dept. of Culture honored him again in 2010 with the first National Award for Modern Music. That same year in Montevideo, Uruguay, Eduardo Galeano presented him with the Memoria del Fuego Award in recognition of his commitment to social causes and defense of human rights. Finally, in 2014, he received a Latin Grammy as person of the year and the Premio Ondas.
Joan Manuel Serrat's music has, is, and will continue to be a fundamental part of the soundtrack of the lives of Spanish speakers on both sides of the Atlantic.