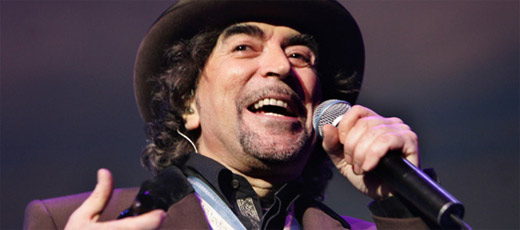 Joaquin Sabina. Discover this popular spanish songwriter and poet is famous for his raspy voice and deeply poetic lyrics.
Joaquín Ramón Martínez Sabina was born in Spain in 1949 and is a well known Spanish singer, songwriter and poet. Famous for his raspy voice and deeply poetic lyrics, he is one of the most famous Spanish musicians.
Joaquín Sabina, as he is known artistically, has inspired millions of people with the 20 albums and many poetry books that he has under his belt. During his long and impressive career he has collaborated with the likes of Ana Belén, Miguel Ríos, Javier Krahe, Alberto Pérez, Viceversa and Joan Manuel Serrat.
Sabina disappeared from the music scene for four years after he suffered a stroke in 2001. The poet recovered from the physical strains but struggled to come out of a deep depression. During this period he published dímelo en la calle (2002) and a couple of compilations. In 2005, he made his comeback with an album called Alivio de Luto (Relief from Mourning). Another four years would pass before Sabina's next highly anticipated album Vinagre y Rosas (Vinegar and Roses) would be released in 2009 and would have Joaquín Sabina on tour through November of 2010. In 2007, he toured with Joan Manuel Serrat, out of which the album Dos pájaros de un tiro was born, achieving unprecedented success in Latin America. In 2012 the album La orquesta del Titanic was released, which included participation from el nano. That same year, Sabina and Serrat performed a concert in Luna Park in Buenos Aires, Argentina, from which a new live album was recorded. En 2014 he released Esencial, his latest compilation to date.
Joaquín Sabina was born in Andalusia to a police officer and a housewife. By age 14 he began writing poetry and formed a cover band with his friends called Merry Youngs. When Sabina finished high school, his father tried to reward him with a wrist watch, but the young musician preferred a guitar.
Earlier on, Joaquin Sabina enjoyed reading poems by Fray Luis de Leon, Jorge Manrique, Jose Hierro, Marcel Proust, James Joyce, Herbert Marcuse and later César Vallejo and Pablo Neruda. He enrolled in the University of Granada in 1968 to study the Romance Philology.
In 1970, Sabina's left-wing ideals would lead him to collaborate with the magazine Poesía 70 and eventually to throw a Molotov cocktail in protest at a government building. These actions would catch the attention of Francisco Franco government who issued an arrest warrant for Joaquin Sabina. The singer could not flee the country immediately for lack of a passport but eventually escaped when a foreigner lent Sabina a passport. Joaquín used the passport to escape to Paris and eventually to London.
In London Sabina collaborated with the Antonio Machado Club, a center for emigrants and political refugees. He began writing his first songs, collaborating in a controversial theatre group and also organized screenings of Luis Buñuel movies, illegal at the time in Spain. Sabina earned a living singing in the subway and in clubs and restaurants, where he would one day have an encounter with the ex-Beatle George Harrison. By 1976, Joaquin Sabina, still in exile, published his first book and started to organized concerts for Spaniards in England.
Joaquin Sabina returned to Spain in 1977, after Franco's death. In 1978 he released his first of many albums called Inventario (Inventory) which went largely unnoticed. His next album, Malas Compañías (Bad Company) earned Sabina a number one hit and wide recognition that would launch his long career.