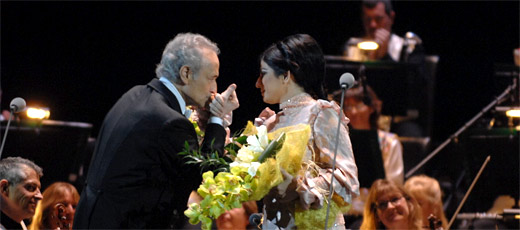 Jose Carreras. The Spanish tenor Jose Carreras is world famous for his interpretations in productions by Verdi & Puccini.
Josep María Carreras i Coll, better known as José Carreras, is a world-famous Spanish tenor. He was born in Barcelona in 1946 and is known by opera lovers for his interpretations of the works by Verdi and Puccini. His star rose again thanks to his participation with Plácido Domingo and Luciano Pavarotti as a member of "The Three Tenors" in 1990 when they performed at the Termas de Caracalla in Rome.  
He began his artistic career at a very young age. His first performance in public was when he sang on Radio Española "La Donna è Mobile" from Verdi's Rigoletto when he was only eight years old. When he was 11, he sang "El Retablo de Maese Pedro" by Manuel de Falla in the famous Liceu Opera House in Barcelona. This was the first time that Carreras stepped onto the stage of the opera house that would later be so important in his career.
José Carreras studied at the Conservatorio Superior de Música del Liceo and in 1970 he made his opera debut as Ismael in the opera Nabucco. He rose to fame later that year thanks to his performance alongside soprano Montserrat Caballé who invited him to sing with her in the production of Lucrezia Borgia. Later, both singers would perform many more times together.
In 1984, the Generalitat de Catalunya (the regional Catalonian government) awarded him the Gold Medal of the Generalitat of Catalonia. One year later he won a Grammy for his performance together with soprano Kiri Te Kanawa in the musical version of West Side Story which was composed and directed by Leonard Bernstein.
Interestingly, 1986 was the year that Carreras made his film debut in a movie directed by Spaniard José María Forqué. In this biopic, Romanza Final (Gayarre), Carreras played the role of tenor Julian Gayarre. This would be one his few appearances on the big screen.
It was in 1987when at the height of his career, Carreras was diagnosed with leukemia. After defeating this cancer, he created a non-profit foundation in 1988 to fight this disease: Fundació Internacional Josep Carreras per a la Lluita contra la Leucèmia (The José Carreras International Leukemia Foundation in English). This organization collects funds to help assist research in the fight against leukemia as well as maintain a registry of bone marrow donors to help those that do not have a compatible family member. Because of this and other initiatives, his work in humanitarian projects has been recognized internationally.
In 1991, José Carreras was awarded the Prince of Asturias Award for the Arts in recognition of his artistic career and other artistic and humanitarian endeavors.
The years following were full of performances , tours and tributes which culminated in 2008 with his 50th anniversary singing. This important event was held where else but the Liceu Opera House in Barcelona.
In 2009, José Carreras announced his retirement from performing professionally but he still continues to participate in recitals and concerts, primarily benefit performances, around the world. In 2014, he is preparing the premier of the opera El Juez which will open at the Arriaga Theater in Bilbao. This opera tells the story of the "stolen children" who were taken from their mothers in 1950s Spain.
On September 9, 2014, two days before La Diada (Catalonia's national day), Carreras received the Catalonian Parliament Gold Medal of Honor. This prize recognizes this Catalonian's impact and universal values that have meant that, contrary to the saying, yes this prophet has brought honor to his land.
Josep María Carreras i Coll has had an impressive career with more than 120 recordings that include operas, pop music, middle of the road, religious music among other genres. He has recorded in different languages like Spanish, Catalan, Chinese, Korean, Japanese, English, German, Italian and French.