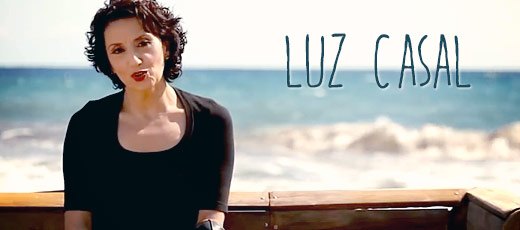 Luz Casal. The Spanish musician was being named Prodigal Daughter of Boimorto, her town of birth in which the Festival de la Luz has been held since 2012.
Writing about celebrities is quite frankly fascinating business; digging around for fun facts and curious antidotes about their lives, revealing their juiciest secrets and reliving moments of popular glory all make for one enjoyable task. Luz Casal however is not your everyday celebrity. She rarely appears in the tabloids and you never see her on TV programs that feature the very famous, the somewhat famous and the just plain "known" bickering and gossiping amongst one another. She defines discretion, elegance, poise, and professionalism.
María Luz Casal Paz was born in the small A Coruña, Galicia town of Boimorto in 1958, where she remained for the first six months of her life until her parents moved to Asturias. The family first settled in Avilés, where a young María Luz attended grade school. They later took residence in Gijón, where Luz began studying music theory, ballet, and piano. She also discovered a passion for singing. She soon joined two music groups with which she performed around northeastern Spain.
At 18, she made for Madrid with the hopes of carving out a career in music. Luz took a demo tape to a record producer and quickly discovered that success doesn't come when you want but rather when it wants. She began her career by singing back up for several singers both live and in the recording studio. She also performed in the musical Las Divas.
In 1980 the singer published her first single (El ascensor) and participated in various music festivals in different countries. A year later she collaborated on an album by the hard rock group Leño. 1982 saw the release of her first full-length album Luz, which includes songs written by her and by famous musicians of the time. Luz continued making one album per year until she earned her first big hit in 1985 with the song Rufino. In 1986 she gave more than 90 concerts and performed on Spanish, German, French, and Czechoslovakian TV. An international star was born.
In 1987 the album entitled Quiéreme aunque te duala was released, in which Luz Casal discovered her voice as a ballad singer, which would become her signature genre, although she would never abandon her rock origins. Two years later her Luz V sold 300,000 copies and featured three songs that launched Luz Casal to stardom: Loca, Te dejé marchar and No me importa nada. At the height of the newfound fame that same year, she participated with stars such as Sting and Peter Gabriel at the An Embrace of Hope Concert in Chile in favor of human rights.
Her next work, entitled A contraluz, sold 600,000 copies and included Piensa en mí, which reached number one on many international charts (France, Germany, Latin America, Spain…) after it appeared in Pedro Almodóvar's film Tacones lejanos.
In an attempt to avoid letting the great success go to her head, Luz Casal planned a four-year break from music production, after which she published Como la flor prometida. Selling 800,000 copies, it is her best-selling album to date. Over the following years she released anthology albums and French language versions of some of her songs given the great success she enjoyed in France.
In 2001 she won a Goya award for best original song with Tu bosque animado, which was on the soundtrack to the movie El bosque animado, sentirás su magia. After this period she began exploring jazz and flamenco-fusion.
By the beginning of 2007 she announced on her website that she had breast cancer. Casal actively campaigned in favor of early prevention of the disease. The challenging experience inspired the successful Vida tóxica, an album that describes undergoing aggressive chemotherapy treatment. She was never ashamed to appear in public after losing her hair during the treatment, even showing pride in her new look and in her support of the Spanish Association Against Cancer. In 2009 her La pasión appeared, a hit album of bolero songs. She was also awarded a medallion of the French Order of Arts and Letters and the Gold Medal of the city of Paris. The city of Madrid also awarded her its Gold Medal. The award that perhaps most touched her heart however was being named Prodigal Daughter of Boimorto, her town of birth in which the Festival de la Luz has been held since 2012. Proceeds from the event go to the Spanish Association Against Cancer and the Food Bank.
In 2010 she was forced to take another break from performing when a tumor reappeared. She recovered and soon released Un ramo de rosas (2011) and Almas gemelas (2013). On November 19, 2013 she was awarded the National Prize for Current Music form the Spanish government.