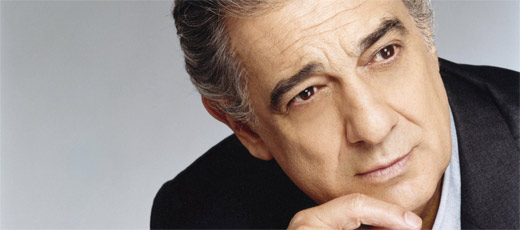 Placido Domingo. Music fans an press alike have called the famous opera singer "greatest tenor of all time".
Plácido Domingo is probably the most well known Spanish tenor throughout the world. Music fans an press alike have called him "greatest tenor of all time" and, since the apple does not fall far from the tree, it should not be a surprise that Plácido Domingo is the son of two Spanish Zarzuela opera singers: Plácido Domingo (Senior) and Pepita Embil.
Plácido's career has not only involved singing. He has also worked as a musical director of the National Opera in Washington D.C. as well as the Los Angeles Opera. Additionally, he has worked as a producer and orchestra director.
Born in Madrid, although his family moved to Mexico City soon after, he began taking piano lessons and his skills and ability where noted at a very young age. Later, he enrolled in the National Conservatory of Music of Mexico where he would continue to study piano in addition to orchestra direction. It would be at this conservatory that he would meet his first wife with whom he would have his first son, although this marriage did not last very long.
On May 12, 1959, Plácido Domingo made stage debut as the baritone in the Theater Degollado of Guadalajara in the Emilio Arrieta opera Marina. This work was begun as a two-act zarzuela but its composer later converted it into a three-act opera. Three years after this performance he joined the Tel Aviv Opera and became a world famous opera singer by offering almost 300 performances in just two and a half years.
In 1985, the famous tenor lost some of his loved ones in a devastating earthquake that struck Mexico. Plácido Domingo himself acted as a volunteer and aided in the rescue work to help find survivors. Later, Plácido held various benefit concerts to raise money for the victims of this natural disaster as well as publish an album in benefit of the victims.
Plácido Domingo's ties to Mexico have made him a very popular personality there. In 2007, the local authorities in Mexico City dedicated a statue in the musician's honor made exclusively from keys donated by the people of the city. The statue was the work of artist Alejandra Zúñiga and formed part of the Mexican art project Grandes Valores.
Domingo has performed in practically every great opera house in the world, from the Metropolitan Opera in New York City to La Scala in Milan and he has worked with great music conductors like Karajan and Zubin Mehta. Even though he has played over 90 different roles in his career, his repertoire is based principally in Italian, French and German works. Some of his most famous roles have been in Il Trovatore, Otello and Tosca.
At the beginning of the 21st century, Domingo has increased his role as musical director of not only opera but has also directed, on occasion, symphony orchestras. He has also been active, albeit timidly, in the pop music scene with duets with musicians such as John Denver, Carlos Santana, Alejandro Fernández and Michael Bolton.
Domingo's work has earned him international recognition and he has been awarded a dozen honorary doctorates by universities in Spain, Mexico, the United States and one, in particular, from Oxford University. In his trophy case he has seven Grammy Awards and two Emmys for his performances on American Television.
In 2008, a jury of music professionals convened by BBC Music Magazine selected Plácido Domingo as the greatest tenor of all time.
Michael Tanner, music critic for the British magazine The Spectator, said of Domingo: " The operatic scene since the mid 1960s is inconceivable without Domingo, and the gigantic treasury of opera recordings will bear witness to future generations of his greatness…In an age when 'celebrity' has rightly become a world of contempt, Placido Domingo's fame is an example of how a huge name was built on solid foundations."