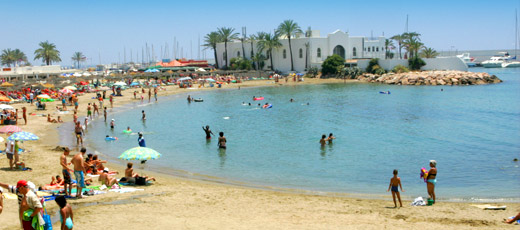 Beaches in Spain. Find out about the best Spanish beaches. Spain has over 5,000 miles of coastline, much of which is graced with amazing beaches.
The coasts of Spain are anything but boring. The more than 3,000 miles of Spanish coasts offer a rich variety of beaches, coves, inlets and gulfs making it difficult not to be tempted to stop by one of them and lounge in the warm sun. From the Costa de la Luz, in the extreme Southwest, boarding Portugal, to the Costa del Sol, the Costa Tropical and that of Almeria in the South, the Cálida, Blanca and Azahar coasts in the Southeast and all the way to the Costa Dorada, the coast of Maresme and the Costa Brava, in the extreme Northeast, bordering France, the shores of the Mediterranean offer something interesting for everyone. And in the North, the Rías Baixas y Altas, the Costa Verde and the coast of Cantabria along the now popular Costa Vasca are especially popular for surfers who come for the legendary Mundaka wave. How could you not go to the beach in a country so surrounded by crashing waves, salty seas and so much sun and sand!
Summer is an excellent time for cultural tourism in Spain, and it is a perfect time for learning languages. But since Spain is a country filled with sun and sea, it is not surprising that many tourists and students also come to enjoy one of the many beaches close to our destinations. Some of them are the best in the country and others might just surprise you. Let's take a look!
The best beach near Barcelona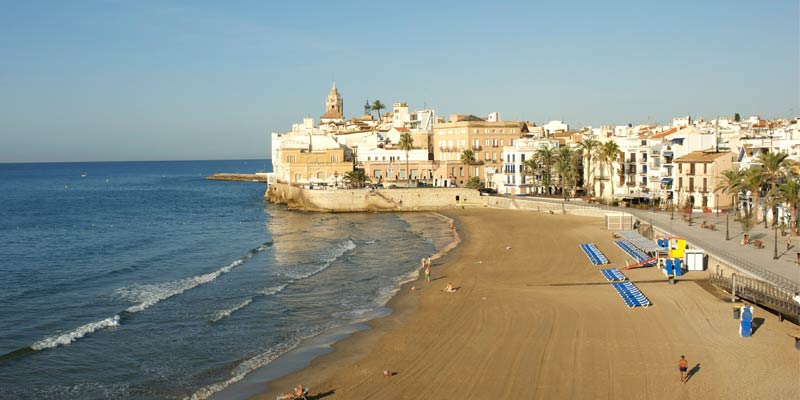 The beautiful Sitges, can be found very close to Barcelona, just 25 miles from the city. And along its 11 miles lie 26 stunning beaches. All of them are blue flag beaches, all can be found in beautiful locations near the mountains and all of them have something for everyone: from the typical chiringuito for snacks or a bite to eat to the most avant-garde restaurants.
The best beach near Valencia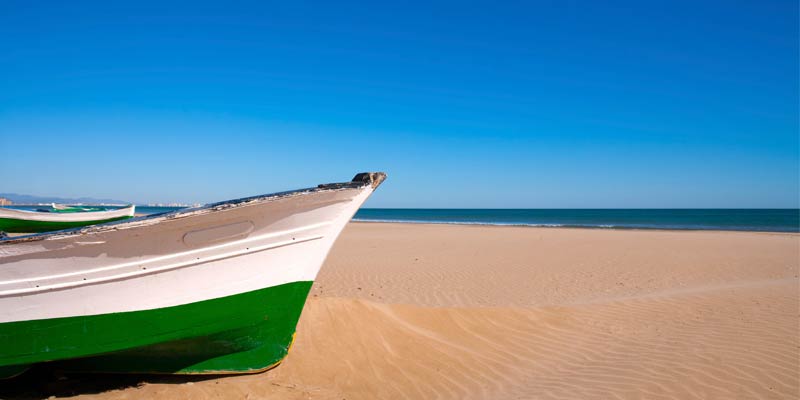 Valencia is one of the most typical beach destinations in Spain. The miles of beaches in this region are almost impossible to count, so which ones impress us? We know that students want to be able to step out of class and practically be on the beach. And with that in mind there is no better choice than La Malvarrosa, a stand out urban beach, which is also just a short walk from our school. It is easily accessible and includes many services. There is nothing better than enjoying the waves right after class and forgetting about routine... but of course not about everything you've learned in class!
The best beach near Marbella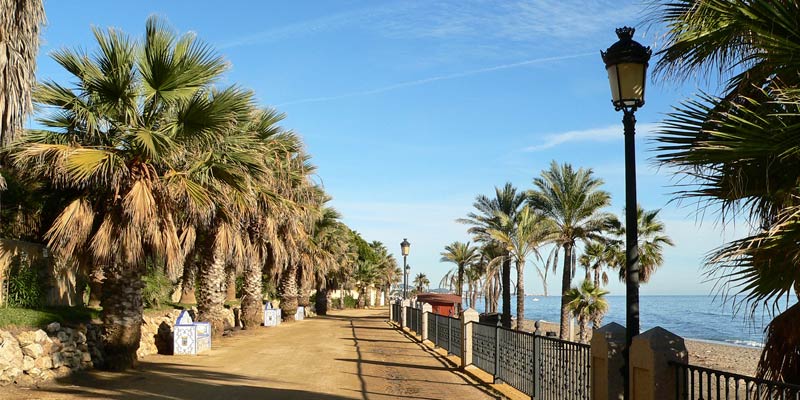 So what about Marbella? It's a pleasure to be able to say that our school is very close to the Real de Zaragoza Beach. Golden sand, nice sized waves... and so close to the city that students can enjoy the beach into the wee hours, enjoying the lovely sand, salty air and lapping waves for as long as they like.  The only drawback may be that it gets crowded pretty fast. But it is the perfect place to go on weekdays!
The best beach near Malaga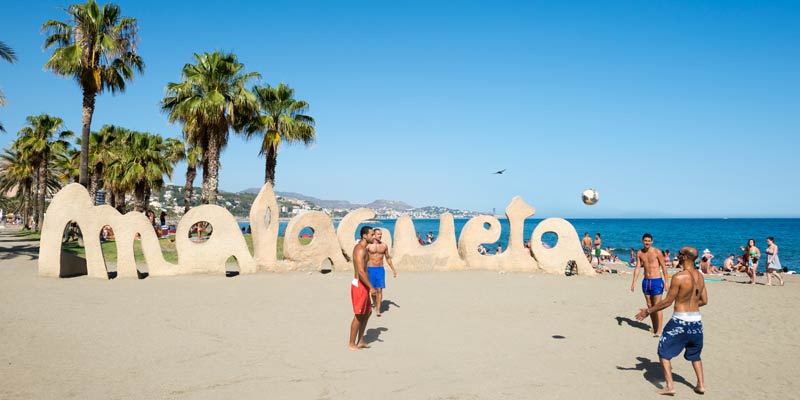 Another destination that is associated with beaches is Malaga. In fact the city is known as one of the gems of the Mediterranean. And it's something that is definitely not lost on us. In fact our school is less than a 10 minute walk from the coves of Pedregalejo Beach. The famous Malagueta Beach, long and winding with beautiful palm trees, is also very close by.  It is the perfect beach for taking it easy and doing your own thing.
The best beach near Seville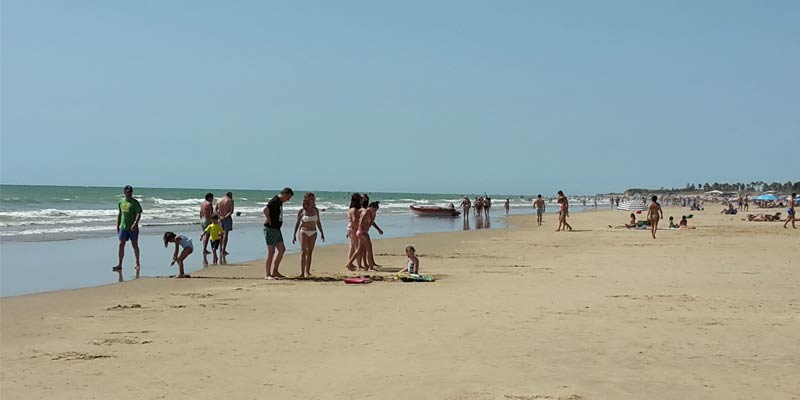 Even the landlocked Seville is close to the beach. It is true that it is not right around the corner; it's about an hour and a half long car trip to reach the nearest beach. But what's an hour and a half if you can enjoy the beauty of the Costa Ballena (Cadiz) with its endless horizon and fun waves? Mazagón, in Huelva, is also a lovely place to visit. It is also located an hour and a half from the Andalusian capital. If you want to spend the day on the beach without spending a lot of money order some simple food or take a bag lunch with you... and stay all day!
The best beach near Madrid
Even the most unexpected places have beaches in Spain. And in this case, we're talking about Madrid. Yep, it's true. Madrid has a fantastic freshwater beach at the San Juan reservoir. It's true that it's not a place for someone looking for waves, but some think that all that might change soon. If all goes well, the city will have an artificial beach with waves big enough for surfers near Barajas airport by 2017.
The best beach near Tenerife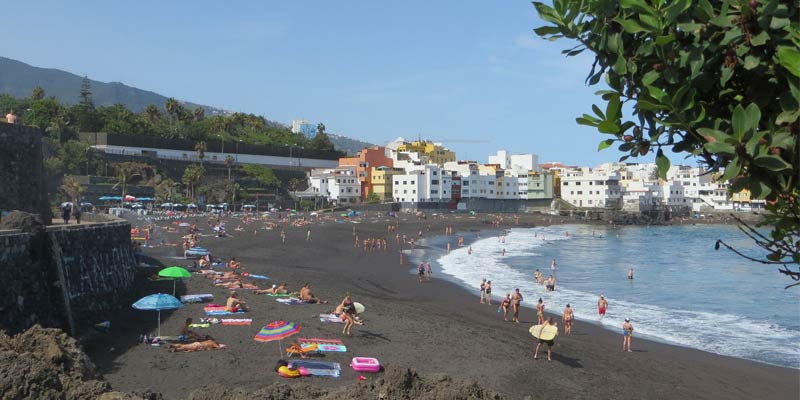 But if you really want to talk about a tropical paradise, and some of the best beaches in all of Spain, you have to go to Tenerife. This Canary Island is surrounded by beaches for all different tastes: hidden, wild, easily accessible, natural... and all of them are very close to the city! But if students want to take a dip as soon as they step out of the classroom we recommend Playa Jardín. Just a 20 minute walk from our school! It is an easily accessible beach, surrounded by beautiful gardens, with black volcanic sand and crystal clear water. It is truly breathtaking!
Learning Spanish, as we've said many times, is also about enjoying the place it is spoken. And where better to do it than on a beautiful beach?