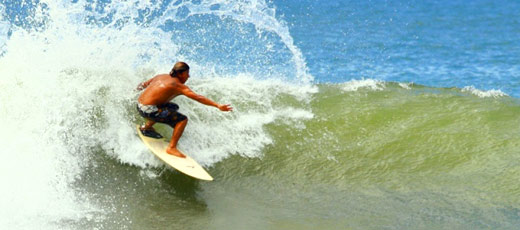 Surfing in Tenerife is fantastic! Discover the beaches in Tenerife and enjoy Tenerife surfing. Choose you favorite Tenerife beach and have fun!
The island of Tenerife, the largest of the Canary archipelago of Spain, is a favorite destination for surfers from around the world. Surfing in Tenerife is perfect, with year-round temperatures above 20ºC (68ºF). Tenerife's beaches provide many different types of waves: left-hand, right-hand and tubular.
With plenty of beaches and different wave types, Tenerife offers the perfect surfing spot for both expert and novice surfers. The island is also home to numerous surfing schools that can help you learn or perfect your skills.
Surfing Beaches in Tenerife
Playa La Izquierda: "Left Beach" is famous for its left-hand reef-breaking waves that are ideal for experienced surfers due to their speed and intensity. On this Tenerife beach you will find surfers all week long.
Playa El Conquistador: "Conqueror Beach" is located between two of the most famous Tenerife beaches: Las Americas Beach and Los Cristianos Beach. The surfing waves are average in quality, which makes it a good surfing spot for all surfing levels. The waves are both right- and left-handed. Precaution should be taken with the rocky sea bottom and the reef.
Playa La Caleta: La Caleta beach features world-class waves that make it a playground for some of the most advanced surfers. This Tenerife beach has left- and right-hand waves that stretch 150-500 meters (492-1,640 ft). The sea floor has flat rocks but there is also a rocky reef.
Playa de los Gigantes: "Giants Beach" is the perfect surfing spot in Tenerife for any surfer. This beach has great waves 150 days a year with beach break rather than reef break. The sandy sea bottom has scattered rocks. The left-hand waves on this Tenerife beach are normal in length, reaching up to 150 meters (492 ft) that any surfer can enjoy.
Playa El Charco-La piscina: "Puddle-Pool Beach", also known as Bajamar Beach, is for professional surfers and kamikazes. These potent surf waves break on a rocky sea bed, are both right- and left-handed and very short in length. This beach is often empty during the week with brave surfers visiting mainly on the weekends.
Playa Martiánez: Martiánez Beach is located in Puerto de la Cruz, Tenerife, and is a good surfing spot for experienced surfers. Its classical waves are both right- and left-handed but very potent, reaching up to 300 meters (984 ft) in length. Located next to this surfing beach is the famous Lake Martiánez, a complex of artificial pools with sea water.
Playa La Enramada: "Arbor Beach" is for experienced surfers and is usually empty during the week. This secluded Tenerife beach is perfect for those who have a 4x4 vehicle to access it, a great way to compliment an adventurous day. The beach boasts left-hand waves that reach up to 300 meters (984 ft) in length during 150 days a year. Additionally, surfers can catch great waves during both the rising and falling tides.
Playa Punta Blanca: "White Point Beach" is famous for its world-class waves perfect for experienced surfers. This beach is known to have fun yet potent waves that reach a maximum length of 150 meters (492 ft). This is another beach that is practically empty during the week, but be prepared for company on the weekends. It's also a famous destination for body-boarding.
Playa Las Gaviotas: "Gull Beach" offers classic waves for experienced surfers. The waves are both right- and left-handed and can reach up to 500 meters (1,640 ft) in length. If you want to surf in Tenerife in solitude, this beach is normally empty during the week; more surfers will join you here on the weekend.