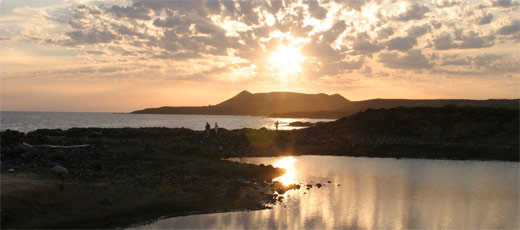 Island of Tenerife. Enjoy the hundreds of kilometers of volcanic sand beaches in this Canary Island, nicknamed "the island of eternal spring".
Come to Tenerife to relax and get away from it all! Tenerife is the ideal getaway for those who just need a little time out and you can get just that on the hundreds of kilometers of volcanic sand beaches in this Canary Island, nicknamed "the island of eternal spring". Tenerife's beaches are perhaps what the island is most famous for apart from its cultural festivals... and you can enjoy the beautiful coastline with your favorite cocktail and travel companions without a disturbance in the world!
The town of Puerto de la Cruz is located in the north part of the island of Tenerife. This tiny paradise, long known as a place of rest and relaxation, also offers excellent tourist services and will welcome you with pleasant temperatures no matter what time of year you choose to visit...
One of the greatest attractions of Puerto de la Cruz is without doubt the man-made lake called Lago Martiánez. Aside from the exceptional piece of work that is the Lago, Puerto de la Cruz boasts other small beaches of volcanic, sometimes gravel-like, sand, with the best ones being Playa Jardín and Martiánez Beach. Santa Cruz de Tenerife also offers spectacular spots.
Lago Martiánez
César Manrique, a well-known Canary artist, created this extraordinary spot for bathing and resting in the sun. Lago Martiánez – also called "Costa de Martiánez" – consists of a series of lagos (or "lakes") that make up an immense salt water swimming lake (yes, saltwater!). Designed in the style of the traditional Canary architecture, the lake blends well with the exotic vegetation of the autochthonous flora that is commonly found on this volcanic coast. Four of the lagos are for adults and three are for children, each demonstrating an imaginative layout.
Playa Jardín
This regenerated beach in Puerto de la Cruz is nearly one kilometer off the coast and runs from the "Castillo de San Felipe" (Castle of San Felipe) to the district of Punta Brava. Around 200,000 cubic meters of sand were extracted from the surrounding sea beds to create this beach. Despite all of the sand removal and readjustment, it is excellently shielded by a half submerged breakwater.
Martiánez Beach
This beach, also in Puerto de la Cruz, is situated between a cliff and the public complex "Costa de Martiánez". This not-so-touristy black-sanded beach lays open to the grand waves of the ocean, making it the perfect spot to practice (low) surfing and to sunbathe among the local Spaniards.
Teresitas Beach
Located 7 kilometers north of the city of Santa Cruz de Tenerife, this original black sand beach was enlarged and conditioned in 1973 with millions of bags of golden sand brought in from the Sahara. To avoid erosion, the beach is now also protected by an enormous breakwater. A number of Canary palm trees have been planted in its 1.5km long beach stretch to provide shade. Its closeness to the fishing town of San Andrés means there is a wide array of delightful fish and seafood restaurants in the vicinity.
Roque Beach
This is a tranquil dark sand beach (quite abundant in sand during low tides) with clean, crisp waters near Santa Cruz de Tenerife. One unique aspect of this beach is that you have to take a boat to get to it. However, tourists should be cautious of the waters because, despite the seemingly good conditions of the sea on any given day, it has a lot of currents and sudden swells; perfect for experienced surfers, but quite dangerous for less experienced swimmers. There are also open-air cafes and fish restaurants found along the shore.