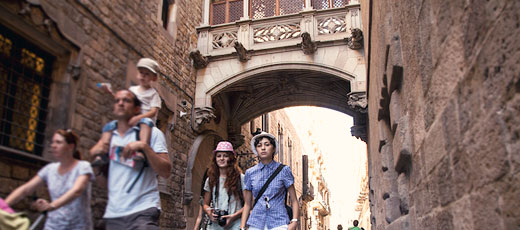 The Old Town of Barcelona is made up of four districts: El Raval, La Barceloneta, San Pedro–Sta. Catalina y la Ribera and el Barrio Gótico.
Visitors to Barcelona's oldest district, known as Ciutat Vella (Catalan for Old Town), get the unique opportunity to behold attractions that date back to the city's early origins. This historic area is made up of four neighborhoods: El Raval, el Barrio Gótico (the Gothic quarter), San Pedro – Sta. Catalina y la Ribera, and La Barceloneta.               
Early Barcelona's tallest point stands right in the heart of the Gothic District: Mount Táber, today's Plaza de Sant Jaume. The district's structure remained relatively unchanged until the 19th century, when it underwent major redevelopment. Despite these changes, it still displays ancient remains of the city wall and the temple of Caesar Augustus. 
The Gothic District's name comes not only from the artistic period of its origin, but from the design of its architecture. A number of this old town's buildings were built in gothic style, but much later than the gothic period.
The district borders: Plaza de Cataluña, calle Fonanella to the west, and Vía Layetana to the north, las Ramblas to the south, and the Mediterranean Sea to the east. An exploration of this neighborhood will take you through special tucked away spots that continue beyond the neighboring area of Raval, which is the home of emblematic places such as Boquería Market and the Gran Teatro del Liceo.
Near Plaza de Cataluña you'll find a café of great historic importance: Els Quatre Gats (the four cats). Members of Barcelona's modernist movement gathered here and at one time to observe the first exhibits of works by a young Pablo Picasso. Today, the restaurant-bar still exudes a modernist vibe with a varied program of live jazz performances.
Heading toward the sea we come to Plaça Nova (new square), which gives us a chance to see La Pia Almoina, a building from the 15th century which today houses the Diocesan Museum. Also visible is the Episcopal Palace of Barcelona, with its neoclassical façade and 13th century first floor gallery. Remains from a 4th century Roman wall lie just next to calle Bisbe. The central attraction however is the Cathedral of the Holy Cross and St. Eulalia. You can see the cathedral's oldest structure (15th century) by entering through the cloister on calle Bisbe. The neo-gothic façade however was built in the 19th century, following original 15th century plans. The temple is a fine example of gothic style; inside you can observe thirteen geese (one for each year of St. Eulalia's short life). Also present are impressive chapel altarpieces, magnificent choir stalls and St. Eulalia's tomb.
Following calle del Bisbe, we make our way under a neo-gothic bridge that joins the Palau de la Generalitat (a Catalonia government building) with the Casa dels Canonges (a former religious building that currently houses the offices of Catalonia's vice presidency).
Remains from the Roman temple of Augustus rest just a few meters away: perhaps most noteworthy are its base and four columns, which inspire great appreciation for Barcelona's rich past.
Next we come to Plaça de Sant Jaume (St. James Square), the location of Barcelona's city hall, a beautiful building with a 19th century neo-classical façade, and the Generalitat Catalunya, a gothic building with a renaissance façade. This square was a forum in Roman times and it has continued serving as a meeting point for local residents through the Middle Ages and right up until today. It is a place where people still dance sardanas (Catalonia's national dance) on Sunday and on Saturday large circles of dancers also gather here.
Another nearby public square dates back to medieval times. Plaça del Rei (king's square) is flanked by a series of buildings from the era including one that currently houses the city's Museum of History. Inside the museum you can see excavations of sites that date from the 1st century (the time of the city's founding) to the middles ages.
Next we head back toward the sea by way of a street with a name that has earned it some attention: el Carrer d'Avignó. Many insist that Picasso's celebrated work "Las señoritas de Aviñón" is of a group of women who worked in a brothel located on Carrer d'Avignó that was frequented by the painter.
After reaching the Basílica de la Mercé (Basilica of Our Lady of Mercy), next to the B-10 motorway, known as the Ronda Litoral, we take a right and exit the district through the Plaza Real (royal square). With its cafés and restaurants with outdoor seating, this is a perfect neo-classical space for relaxing in after exploring the Gothic District and its attractions. The other good thing about this plaza is that it leaves you right next to the Ramblas, the heart of this wonderful city.