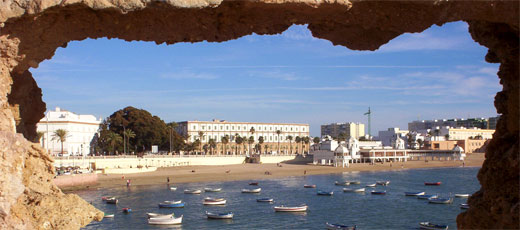 Cadiz. Located close to the Strait of Gibraltar, Cadiz is famous for its carnival and beautiful beaches. It is one of the most ancient cities in Europe.
The seaside city of Cadiz lies in the province of the same name in Spain's southern autonomous community of Andalucia. More than 3,000 years of history make Cadiz one of the most ancient cities in Europe. Its privileged location near the Strait of Gibraltar, where the Mediterranean meets the Atlantic, grants the port the honor of linking the Iberian Peninsula to the rest of the world.
Folklore states that the city was founded by the mythological Hercules, when in reality it was the sea-trading Phoenicians who founded Gadir in around 1100 BC. The city was later controlled by the Carthaginians, and under Roman rule it became a thriving port famous for its exported salty fish and bronze castanet-clacking dancing girls known as puellae gaditanae or "dancers of Gades". Cadiz fell into the shadows under the Visigoths and Moors, springing back to splendor in the early 16th century when it became a launching point for ships sailing to the New World. The famous Battle of Trafalgar was fought just off of the city's coast in 1805.
Today, the city itself remains charmingly bourgeois and old-world. Its cobblestone winding streets are lined with quaint shops and cafes while the white-washed houses provide the otherwise high-spirited city with a sedated yet immaculate look. Cadiz is still known for its thriving port which docks several cruise liners a week, its popular university life, the passionate flamenco, breathtaking golden beaches, wineries, horses, bullfighting cattle and its best feature yet: the welcoming, friendly residents known as gaditanos. Cadiz's pleasant ambiance can be sensed throughout its streets and in its legendary active nightlife. It is also the proud host of a famous annual street event: the boisterous Carnaval de Cadiz.
Gaditanos always claim their Cadiz is a city of great riches, both historically and culturally - and in that claim, they are correct. The Spanish Constitution of 1812 (known as "La Pepa") was drafted and signed in the neighboring Oratory of San Felipe Neri, now housing the Museo de las Cortes. It is home to the twin citadel castles Santa Catalina and San Sebastián, which are both located close to the beach. The first is a 1598 military fortification in the shape of a five-pointed star built to defend the city (check it out in a background scene for the 2002 James Bond movie "Die Another Day"), while the latter was built atop a Moorish tower which stood above a temple dedicated to Cronus.
Visit Cádiz and find yourself bewitched by this white textured world of salty sea, sand and savory tapas!