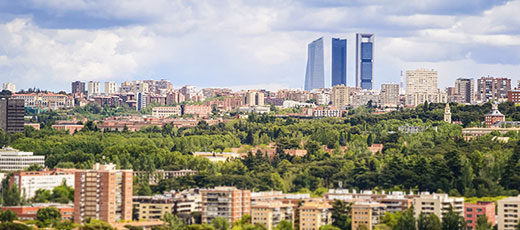 Cities in Spain. Discover the most beautiful Spanish cities and sites such as the Madrid, Barcelona, Granada's Alhambra or the Plaza Mayor in Salamanca.
There are many Spanish cities that are internationally famous for diverse reasons. Madrid is the capital of Spain and is famous for its museums and lifestyle;  Barcelona is considered one of the most cosmopolitan cities in Europe; Seville is highly regarded for its zest for life and beautiful lighting; Granada is known for its rich history, Salamanca for its active university life, to name a few.
However there are many other places in Spain that deserve attention and are definitely worth visiting. Santiago de Compostela in Galicia is a famous town known for its role in the St. James Pilgrimage; Santander in Cantabria and Oviedo in Asturias are beautiful cities in what is known as Green Spain, the northernmost end of the country ; Toledo, Alicante, Cadiz, Valencia, Zaragoza, Tarragona, Tenerife… and many more Spanish cities are full of landscapes, special sites and monuments just waiting to be discovered.
Each city in Spain is a unique universe waiting to be explored. The streets, buildings, parks and main squares are full of secrets waiting for you. Regardless of which Spanish city you visit, you will surely receive a sensational welcome and be left with unforgettable memories.
Related articles