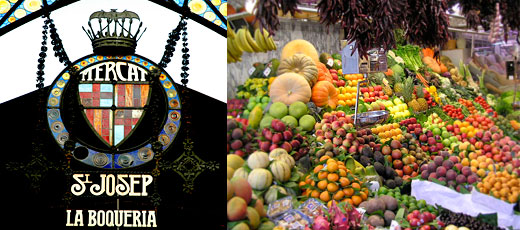 La Boqueria. The bustling marketplace on Barcelona's popular Rambla street, radiates incredible vitality and vivid color.
The vibrant city of Barcelona attracts millions of visitors each year, many of whom will visit the old quarter and its popular street La Rambla. This street runs north to south and connects the town squares of the Plaça de Cataluña with the Plaça Portal de la Pau, all under the watchful gaze of Christopher Columbus who stands high above the scene pointing west. The street forms a border that separates the Gothic quarter and El Raval, one of the city's most authentic neighborhoods.
 La Rambla features an engaging variety of attractions: wonderful modernist architecture, museums, the Gran Teatre del Liceu, the Plaça Real... This is a place where flower vendors displaying their most colorful and fragrant arrangements, street performers offering lively shows and a decidedly cosmopolitan atmosphere all invite visitors to explore and soak in the unique flavor.
Barcelona's Market
The street's bustling marketplace Mercat de Sant Josep, better known as La Boqueria, radiates incredible vitality and vivid color. You will find it just 200 meters from the Liceu theater, half way to the Plaça de Cataluña.
In the Middle Ages, growing cities often developed around the market, a meeting place for residents and merchants. La Boqueria market originated as a meat market in the 8th century (the name may come from the Catalan word "boc", meaning young goat, as Jewish butchers sold this type of meat in the area).
The market has experienced a number of curious events throughout history. In 1840, local authorities reopened the market in the place that a convent had been expropriated after a decree was passed requiring the expropriation of monastic properties. By the end of the 19th century, the market did not seem to have much future left, but a project known as the Plan Baixeres, designed to redevelop the area, prevented La boqueria from having to close. It would go on to become one of La Rambla's great attractions. In 1914, it was sheltered with a metal covering complete with modernist-style wrought iron ionic columns.
La Boquería is a modern market where consumers can find just about anything, from fresh fish and other sea food products brought from around the coasts of Spain, to exotic fruits and vegetables, herbs, meats, and even edible insects… Three hundred market booths covering a 2,583 m² area offer tantalizing goods.
La boqueria is a meeting point not only for Barcelona residents, but also for constant crowds of awestruck tourists snapping photos and beholding multi-colored market scenery.
This is also a place for devouring delicious tapas; the bar Pinotxo is famous, as is its owner Juanito, who has even published a cookbook with his most popular culinary creations. The book features a prologue by none other than Ferrán Adriá, one of the most celebrated chefs in the world.
The Association of venders of La Boqueria includes booth keepers and farmers from the Plaça de Sant Galdric Farmers Market and florists from La Rambla. The association provides these venders with an effective business organization, a structured management that has been held as a model by many outside professionals.
In 2003, culinary workshops were created to introduce children to a love for fresh ingredients and rich cooking traditions. These events geared toward kids promote an exciting range of activities everyday in La Boqueria market.