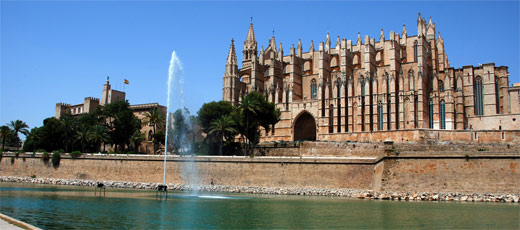 Mallorca. Majorca is a highly popular Spanish tourist destination due to its beautiful Mediterranean weather, hot, bright summers and breathtaking beaches.
Majorca (also "Mallorca") is the largest island of Spain and is located in the Mediterranean Sea. It is one of the four Balearic Islands; the others being Ibiza, Formentera and Menorca. The capital of the island, Palma, is also the capital of the Balearic Islands.
Majorca is a highly popular tourist destination due to its beautiful Mediterranean weather, hot, bright summers and breathtaking beaches. The Spanish island also boasts a long and interesting history that can be discovered by walking through the Old Quarters of Majorca or simply visiting one of the many museums it has to offer.
As a popular tourist destination, the island boasts a wide range of amenities and varied local gastronomy. With over 3,000 restaurants on the Majorca island, the cuisine in Majorca is sure to suit anyone's taste.
Majorca does not fail to amaze when it comes to its number and range of beaches; whether you prefer sand, gravel, rock or pebble beaches, there are a number to choose from on your trip to Majorca. Many of Majorca's beaches provide access for disabled people and there is even a nudist beach for those looking for one. Majorca's glistening beaches boast calm waters, ideal for swimming, and its spectacular beaches and the golden Mediterranean sun of the Spanish Balearic Islands attract people from all over the world.
However, Majorca is not only about amazing beaches. With two mountain ranges and over 4 million olive trees, the scenery is incredibly varied. Nature lovers can also visit various nature reserves and other attractions throughout the island.
In addition to the beautiful natural surroundings, Majorca also boasts some very impressive architecture that paints a picture of the island's rich history. There are a number of beautiful sights to visit such as the Alaro Castle. This famed monument, located on the mountain top, can be reached by foot from the town of Alaro and offers breathtaking views of the island extending as far as Palma bay.
For an extra special treat, visitors can book a room in the Alaro Castle. The fortress also offers a bar and restaurant, open all year round.
Another great place to visit in Majorca is the Bellver Castle. The Bellver Castle, located just northwest of Palma on the Island of Majorca, is a 14th century Gothic style structure, famous for being one of the few circular castles in all of Europe. The Bellver Castle in Majorca is made up of a principle tower and three minor ones surrounding the outside walls and the main courtyard is often used for cultural events and concerts. This popular tourist attraction also boasts beautiful natural surroundings of lush green forest.
Whether you are looking for a great beach vacation, a cultural experience, a wide range of activities or just a relaxing break away from the city, you will find what you are looking for on the dreamy island of Majorca.