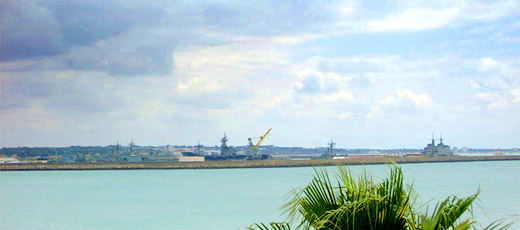 Rota a small spanish city in Andalucia with a naval base. Find out more about the base and the Spanish units and a huge American Army unit based here
In the province of Cadiz, in the Autonomous Region of Andalusia in Spain, there is a joint Spanish-American naval base. The naval base is located in the municipality of Rota and near the town of El Puerto de Santa Maria, where the central offices of the Rota Naval Base are located.
This region in Cadiz is one of the most strategic points in Spain and is considered the Gateway to the Mediterranean Sea.
The Rota Navy Base originated from the Mutual Defense, Economic Aid and Defense Agreements signed between the American and Spanish governments on September 26, 1953. These agreements also opened doors for the Francoist government to gain international recognition culminating in Spain being accepted into the United Nations on December 14, 1955. In addition to the Rota Naval Base, the air force bases of Torrejon in Madrid and Zaragoza in Aragon were also created.
The Rota Naval Station is under the command of a Spanish Vice Admiral and the Spanish flag. The exterior security is under the jurisdiction of Spain while the internal security of the base is a joint American-Spanish effort with a military police force.
There are approximately 8,000 Americans located on the Rota Navy base including military personnel, their families and civilians. Additionally, there are around 1,300 Spaniards employed by the Americans at the Rota Naval Station. Under Spanish command, there are around 6,000 people of which 5,000 are Spanish military personnel and 1,000 are civilians.
The US Navy is responsible for the maintenance and infrastructure of the Rota Naval Base including the landing strips, 3 active piers, 426 facilities and 806 residential houses.
The port and harbor at the Rota Naval Station can house many boats. The ample space in the harbor allows boats to turn easily. For larger ships, the Rota Navy Base provides docking tugs. The largest problem facing the Rota military base are the strong currents and large waves produced by strong winds, particularly the Levante winds which can reach speeds of 40 knots.
Military Units at the Rota Naval Station
Spanish Units
Spanish aircraft carrier Principe de Asturias, Santa María frigate warships, 2 transport vessels, two amphibious assault ships and a supply vessel. As for Spanish aircrafts in the Rota Military Base there are Harrier AV8-BII planes and SH60, SH3-D AB212 and H500D helicopters.
American Units
Fleet Air Reconnaissance Squadron 2 with P-3 and EP3 aircrafts, Naval Special Warfare Unit-10, Naval Security Group Activity and the 725th Air Mobility Squadron
The Rota Navy Base also serves as the US Navy's Meteorological and Oceanographic Center for Europe. The information gathered is used for American forces and the United Nations.