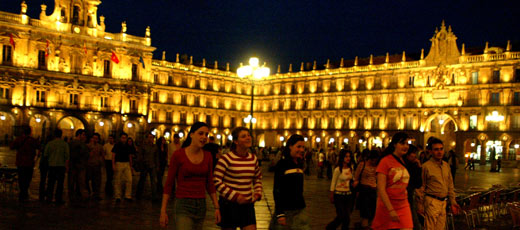 Here you can find tips to enjoy Salamanca's nighlife. Enjoy the nighlife scene in Salamanca such as nightclubs, bars, chupiterias, discos and much more.
Salamanca is one of the most beautiful cities in Spain and possibly the world. The University of Salamanca is the heart and soul of the city, filling it with students from all over the world who come to study and enjoy the live and active atmosphere. Strolling through Salamanca´s streets is like visiting a museum, every street corner you turn will open your eyes to another beautiful monument or historical building, like precious gems scattered throughout the city. In addition to its beauty, Salamanca has nightlife scene second to none.
The city is perfect to stroll through and enjoy the illuminated monuments, dine in any of its diverse restaurants or tapa bars, enjoy Tuna groups singing throughout the streets and afterwards go out for a drink or dance until the sun comes up. There are in Salamanca many unique pubs, bars, clubs and music for everyone's taste. The decoration and themes range from a house of dolls (Posada de las Almas), a carousel themed pub (El Tio Vivo), a giant University Cloister dance club (Cum Laude), a sailor themed intimate bar (Capitán Haddock), a bar dedicated to Michael Jackson (Jacko's), a library themed bar (Biblioteca), a cocktail bar dedicated to the artist Gaudi (Country), a late night club themed as a Dutch port (Puerto de Chus), and the list goes on!
Apart from the decoration, there is also a wide variety of types of bars in Salamanca. You can try different shots in one of Salamanca's chupitería bars or experience a huge selection of imported and local beers in the cervecerías. There are sidra bars dedicated to the famous Asturian alcoholic cider where you can observe the particular way in which it must be served. If you are interested in copas (drinks) there is a long and varying list. There are bars dedicated to serving big "liter" sized drinks and others that are popular for serving mixed-drinks or cocktails. Later the clubs start to get active and you are likely to end your night in one of Salamanca´s afterhours discotheques dancing the night away.
There are several common zones in Salamanca dedicated to its active nightlife. In the streets surrounding La Plaza de San Justo one can find a wide selection of alternative bars including hippy, punk and techno establishments that often feature live music and interesting crowds. The historical center of Salamanca is extremely animated in the summertime when people socialize on the bar terraces and enjoy the beautiful city views. In the Bordadores district there is a wide variety of late night bars such as Camelot which is a large nightclub that was once a medieval monastery. The Gran Vía is a popular zone for foreign students who take advantage of the aggressive drink specials and dance in the various clubs.
Salamanca welcomes thousands of foreigners every year and their presence is not forgotten in the nightlife scene. Several establishments are dedicated to this crowd and offer special activities and events, international music, language exchange nights, game nights and more. The Irish Rover is a large club with an English speaking staff located near the University where you can enjoy mainstream English language music. Erasmus is a smaller Dutch cervecería located in the historical center that offers language exchanges and is also heavily frequented by foreigners. Other places popular with foreigners include: O´Hara's Irish Pub, El Savor, a salsa club which has Latin American themed dance nights, Medievo disco bar and Kandavia night club.
Salamanca is marvelously beautiful city filled with students and medieval buildings that are illuminated at night creating a truly unique nightlife. It is a city that never sleeps where you can stay out until the break of dawn practicing Spanish with other students.
Important tips:
Carry a pack of tissues with you, it will come in handy. Bathrooms are small and there are often long lines for the ladies, so make sure to think ahead.
If you get hungry late at night (or early in the morning) there are many food places open until 4 or 5 in the morning.
The fun starts late in Salamanca, so make sure you take your siesta before going out! Do not expect to see the bars full until midnight or later and the clubs from around 2 am onwards.
Go out with only the necessary and do not leave your things unattended.
 Take advantage of the promotions! There are a lot of bars in Salamanca and the pressure is high to fill them. Coupons for 2X1 drinks are handed out on the streets and they can save you money.
Salamanca has nightlife every day of the week but the best days are Thursday through Saturday. If you come in the summer keep in mind that there are fewer students so the bars do not crowd as much.
Prices in Salamanca are quite affordable compared to the rest of Spain. In the nightclubs the prices raise considerably so be prepared.
Be safe! Learn where all the taxi stops are and use them. You can get just about anywhere in Salamanca for around 5 or 6 Euros.