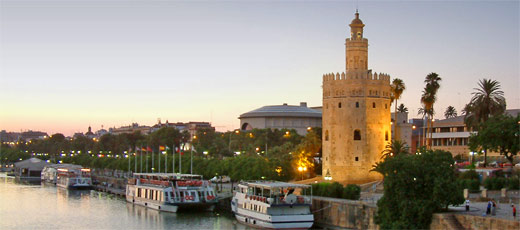 Find out more about the Seville Golden Tower also called Torre del Oro in Spanish.
The Seville Golden Tower is located on the shore of the Guadalquivir River next to the Plaza de Toros de La Maestranza of the city. The Golden Tower of Seville, or the "Torre del Oro" in Spanish, together with the Giralda Tower, are the two most emblematic symbols of Seville. The Golden Tower is the smaller of the two and has historically served a different purpose.
The Golden Tower of Seville was built between 1220 and 1221 by the Morrocan Almohad Dynasty to serve as a watchtower over the port of Seville. Formally, the tower made up part of the city walls and was thereby connected to a similar tower called the Silver Tower.
The Seville Golden Tower received its name because it was covered with a mixture of mortar paste, lime and pressed straw that gave the tower a radiant golden gleam under the sunlight. For a long time it was believed that the tower was covered in tiles. However, in 2005 the building was restored and this theory was proved false.
The Golden Tower is made up of three main structures: the original dodecagon-shaped base built by the Almohad Dynasty, an expansion of the same shape ordered in the 8th century by King Peter of Castile, and a cylindrical structure with a dome designed by Sebastian Van der Bocht in 1770.
The Torre de Oro of Seville has had several uses throughout its history. Originally the tower was used for surveillance but after the Christian conquest it became a chapel. Later, the Golden Tower would be used as a prison before being converted into the Naval Museum of Seville as it is used today.
The 1755 Lisbon earthquake greatly damaged the Golden Tower in Seville. The building was going to be demolished but the people of Seville led a series of protests and even solicited the help of King Charles III to stop the destruction of the building. The King not only protected the Golden Tower but also ordered that it be restored to its former splendor. It was during this restoration effort that tower´s crowning dome was added.
The Seville Golden Tower has survived thanks to the special meaning it holds for the city and people. In fact, the tower has even inspired this popular song:
Arenal de Sevilla y olé,
Torre del Oro.