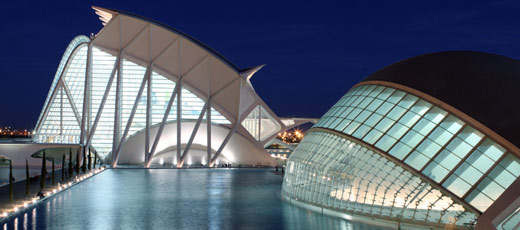 Valencia City of Arts and Sciences. The city of Arts & Sciences is a urban complex devoted to the promotion of art, culture, science and technology.
Valencia is the capital city of the Costa Blanca region and Spain's third largest city after Madrid and Barcelona. But perhaps the most interesting aspect of this Mediterranean jewel is that despite being one of the oldest cities in Spain, it is fast becoming one of the newest due to the city's innovative and forward-thinking outlook. Valencia manages to maintain its traditional cultural heritage and traditions as it produces influential technological wonders and inspired modern architectural works.
Considered to be the largest leisure complex in Europe, La Ciudad de las Artes y Ciencias (as it is known) is a futuristic-looking urban complex devoted to the promotion of art, culture, science, technology, nature and leisure activities. The "city" is made up of complexes that are known by their Valencian names.
The City of Arts and Sciences Complex
The genius behind the design of all the avant-garde structures that make up The City of Arts and Sciences (with the exception of the L'Oceanogràfic) is the Valencian-born, award-winning Architect Santiago Calatrava, who employed concrete, steel, glass, ceramics and the colors white and blue in the creation of the refreshing thematic structures:
L'Hemisfèric
This is the largest architectural element of The City of Arts & Sciences. Particularly designed to look like a human eye, and sometimes referred to as "the eye of knowledge", it opens out onto the world from a shallow turquoise pool that surrounds it. This is where a large planetarium, an IMAX cinema and a Laserium are found.
El Palau de les Arts Reina Sofía
This magnificent building, which stands 14 stories-high and 3 stories-deep, is home to 4 performing art venues, an opera house, a restaurant and café.
L'Umbracle
Floating white arched beams enclose a palm tree-lined bridge, much like a boulevard. The entire "city" is perfectly viewed from this walkway which also displays native flora from the Valencian region.
El Museu de les Ciències Príncipe Felipe
An interactive hands-on Science and technology museum with an architectural shape that closely resembles a dinosaur's skeleton. The motto of this museum is "not touching, not feeling, and not thinking is prohibited".
L'Oceanogràfic
Europe's largest aquarium and marine park complex is sheltered under a roof designed in the shape of a water lily. This complex, designed by the Spanish architect Félix Candela prior to his death, is home to over 45,000 specimens and 500 different species of marine flora and fauna - one of the most varied in the world. There is also an underground restaurant and library.
Because there is so much to see and do at the The City of Arts and Sciences, you will need plenty of time and patience to visit all of the structures, admire the views and everything else that the place has to offer. More than one day is recommended to explore the "city", as it is quite impossible to thoroughly see everything without skimping on enjoyment.
Additionally, Valencia's valuable asset of reliable weather conditions (mild temperatures year-round) allowed the city to be selected, out of many cities in the world, to become the host city of the 32nd America's Cup Race.
Checking out the amazing City of Arts and Sciences for yourself is a must when studying Spanish in our don Quijote Valencia!