Nature lovers are sure to find the perfect places in Spain for people who loves wild nature: 5 destination where nature, spanish language and culture come together.
Finding a Spanish immersion destination for those looking to get their feet wet, get lost in a tropical jungle, hike to the highest peak (or maybe even to the top of a volcano) while surrounded by incredible biodiversity or to simply lie on a silvery, white sand beach and let the Spanish sun rays take them to a worry-free world, couldn't be easier. There is no shortage of incredible locations to be found in the Spanish speaking world. But five of them really pop out. Take a look and see if any of them make your tummy rumble for a little outdoor adventure in Spanish.
1. Tenerife (Spain)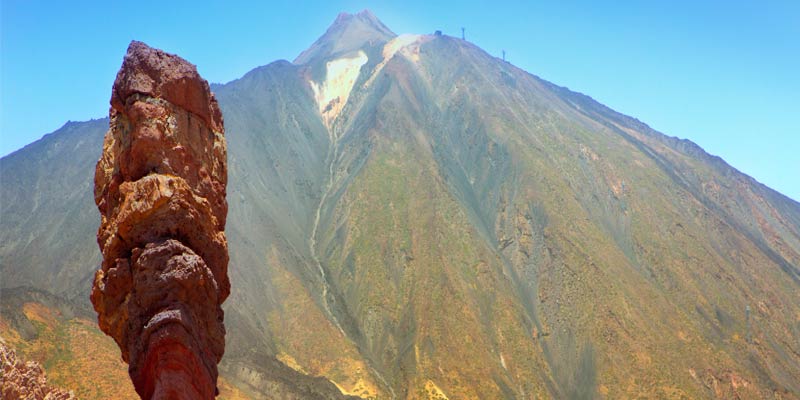 If what you're into is a hike up one of the largest volcanos in the world in the morning, a stroll through a tropical forest in the afternoon and relaxing on the beach with turquoise blue waters splashing on the shores and stars glittering above at night, Tenerife is the place for you. It is an island that is known for both its ritzy resorts and designer fashion and for some of the best unspoiled natural parks to be found in Spain. It is an island that includes a wide range of microclimates, filling it with a huge diversity of plants and animals (Tenerife Bugloss, sea turtles and the tiny Etruscan Pygmy Shrew) endemic to the island. So get out into raw nature at Parque Nacional del Teide, Parque Natural de Canarias, Anaga or Teno rural parks, its many natural reserves, monuments and protected landscapes or the Biosphere Reserve of the Macizo de Anaga mountain range with the most endemic species in all of Europe. Nature lovers get ready to fall in love.
2. Playa Jacó (Costa Rica)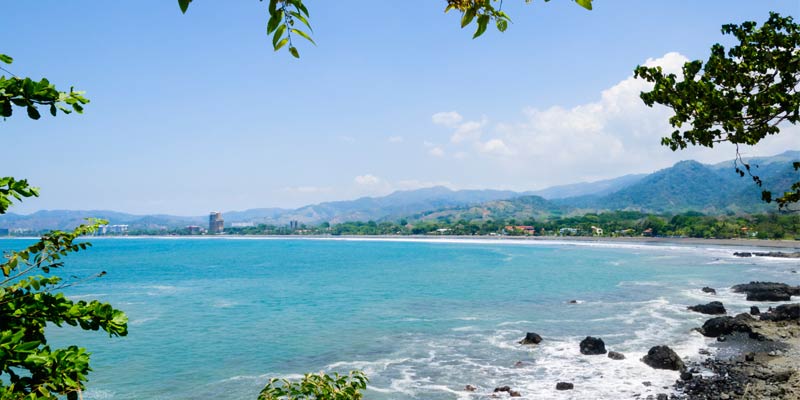 Let the waves crash over your head, drink in the tropical sun and Spanish chatter on the beach, smell that warm, sweet jungle smell exploring tropical forests, see monkeys and tropical birds, go white water rafting or on a crocodile safari, glide through the rainforest on zip lines, go kayaking and snorkeling in the ocean, go horseback riding through natural parks, and of course, don't forget to try out surfing. Playa Jacó is a perfect jumping off point for nature lovers. It is not only a place to find incredible beaches and surf, it is also close to two incredible natural parks, Carara National Park and Manuel Antonio National Park, where visitors can get swept away by the exotic plants and animals that surround them. Get ready for white-faced capuchin monkeys, two-toed sloths, toucans, parrots, colorful frogs and butterflies, black and white sand beaches, and tropical flowers and plants wherever you look if you come to Playa Jacó to immerse yourself in Spanish.
3. Oaxaca (Mexico)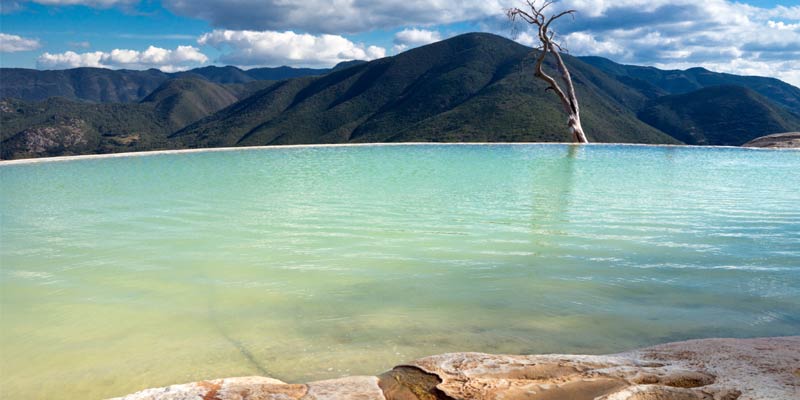 Just wander out of the city of Oaxaca and prepare yourself for a huge diversity of landscapes and plant and animal life. Oaxaca is a perfect place to visit for anyone looking to jump into an old city filled with traditional art, music, food and Oaxacan culture, and then to explore the mountains, desert landscapes and historic monuments nestled into the nature surrounding the city. Get out of the center and wander the indigenous villages nearby, hike into the Sierra Madre mountain ranges, visit the stunning Hierve el Agua, see the nearby Arbol de Tule (one of the biggest trees in the world), the Cascada Las Guacamayas or travel south to see some beautiful beaches on the coast.
 
4. Granada (Spain)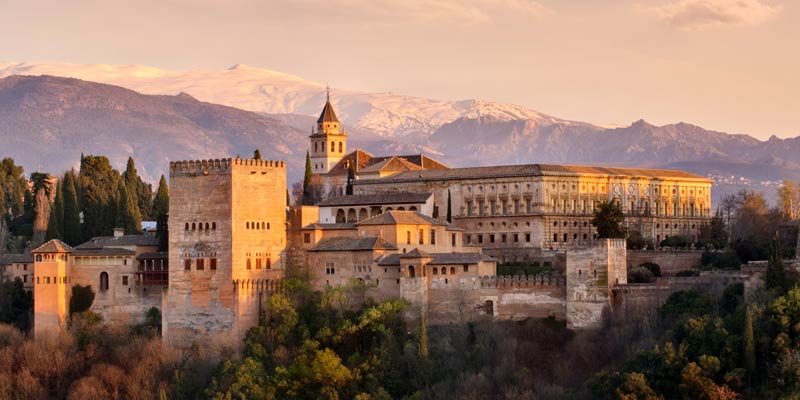 The city of Granada looks up into the Sierra Nevada mountain range glowing purple, green and sprinkled white with snow in the cooler months. There are countless hikes through fruit and nut tree filled landscapes, through gorgeous gorges, olive groves and more desolate-looking desert landscapes. Try hiking Beas de Granada east of Granada, Cahorros in the Sierra Nevada or Río Verde in the Sierras de Alhama, for just a few ideas of trails to take. In the winter (well and actually in the late fall and spring too) Granada becomes a skier's paradise with the warm Spanish sun glowing down (but don't expect it to be too warm – there is snow on the ground after all) and epic views all around. And in the summer there are spectacular beaches just a short bus, train or car trip away.
5. Cartagena (Colombia)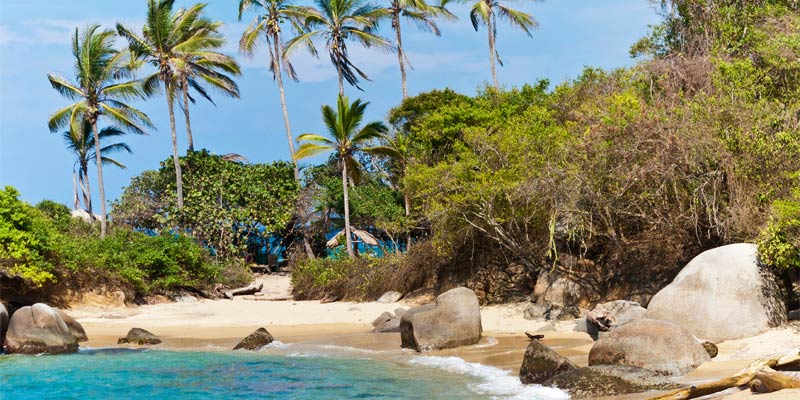 The city of Cartagena has two distinct faces. On one side it is a historic, almost painfully picturesque city, filled with little delights and treats, beautiful monuments and walls draped with bougainvillea, great music and food. But when you wander out of its UNESCO World Heritage old town, and into the newer outer city, get ready to be pulled into a fast paced modern city. But escaping it all and getting into nature is easy with nearby islands to visit, Tayrona National Park, the Sierra Nevada de Santa Marta and the ruins of La Ciudad Perdida. Try day trips to Isla de Tierrabomba, The Rosario Islands or the San Bernardo Archipelago which are natural parks and the perfect place to lounge on white sand beaches or hike, bike or snorkel around to explore a tropical paradise. Another day try the beautiful beaches, mangrove swamps, coral reefs and the hilly jungle of Tayrona National Park for great snorkeling or diving or an adventure into the thick green trees. Cartagena is a perfect mix of traditional old town and rugged nature to explore.
Nature lovers are sure to find the perfect Spanish immersion destination where they can dive into the language and its culture while exploring all of the diversity and intrigue of the jungles, mountains and seas that surround them.