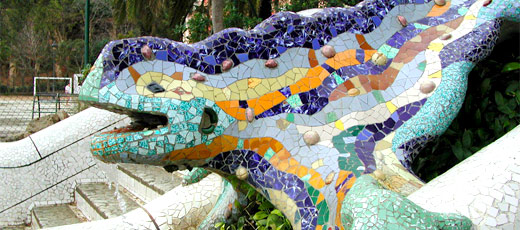 The Park Güell is a garden park in Barcelona, designed by Antonio Gaudí. The Park Güell is the best representative of architectural modernism in Catalonia.
The Park Güell is a large garden park located in the higher altitudes of the city of Barcelona. The park blends nature and architectural elements, designed by Antonio Gaudí, the best representative of architectural modernism in Catalonia and, therefore, all of Spain. The park was aided by the patronage and inspiration from a bourgeoisie businessman and member of the upper middle class, Eusebi Güell from Barcelona.
The construction of Park Güell took place between 1900 and 1914 and opened its gates to the general public in 1922. The park is situated on Mount Carmel, the mountain faces east, towards the Mediterranean Sea. Originally two farms had been joined: Can Muntaner de Dalt y Can Coll i Pujol; they were conceived to create an urbanized area of mansions for the Catalan bourgeoisie, a project that failed.
Park Güell abounds with artistic and ornate architecture. The park masterfully combines all of the elements of Gaudí's naturalist stage (which was developed in the first decade of the 20th century). The artist perfected his style and was inspired by organic forms of nature while he implemented new structural solutions to fit his working environment. All of his experimentation is fully realized in the Temple of the Sagrada Familia where his work is reflected and the solution culminates in an organic style.
The park is accessed by an entrance, symbolizing the entrance to Paradise. The design is full of allegories and guarded by a dragon (the symbol of Barcelona) fountain. At the sides there are two tiled staircases giving access to the Sala Hipóstila o Sala de las Cien Columnas, that support the level above. This room, with 100 columns, mimics the style of classic Greek temples.
The square-shaped oval above is more than 3,000 m2 and the creative edge serves as a bank or barrier from the edge. The bank symbolizes and undulating snake. It is about 110 meters in length and decorated with ceramic collages of abstract shapes.
To access the higher parts of the park there is a viaduct supported by columns that mimic the shapes of palm trees. They are slender columns designed to support the weight of the top.
At the top of the hill stands a monument to Calavario with three crosses. It is inspired by the prehistoric caves that were found in the park. The crosses are guided by the four cardinal directions, and one of them has an arrow pointing towards the heavens, but further symbolism is unknown.
All of the architectural elements are integrated into the natural aspects of the park to create a dreamy environment. One could say that the Park Güell is the most naturally integrated park in Spain, and from the top are views that only a visitor can enjoy.