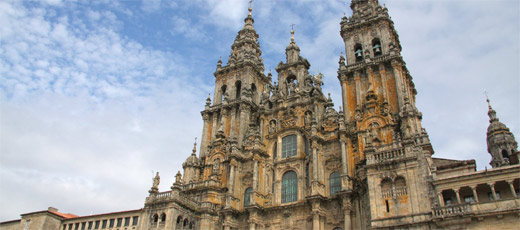 The Camino de Santiago. Actually, we should talk of the "Ways" of St James due to 8 different routes which lead to the city of Santiago de Compostela.
A popular activity in Spain is going on a pilgrimage along the Way of St James. Actually, we should talk of the "Ways" of St James due to 8 different routes which lead to the city of Santiago de Compostela. The two longest and culturally richest routes are the French Way and the ´Vía de la Plata´.
The ´Vía de la Plata´ is an old Roman way beginning in Emerita Augusta or Mérida and finishing in Asturica Augusta or Astorga. Nowadays, this ´vía´ starts in Seville and goes through Salamanca before arriving at Astorga, where it meets with the French Way which leads through Galician lands towards its final destination, Santiago de Compostela.
The French Way is the best known route in Europe for making the pilgrimage to Santiago. This road, usually travelled on foot, runs along the north of the Iberian Peninsula from the Pyrenees Mountains to the city of Santiago de Compostela, while leading along the northern Spanish regions of Aragón, Navarra, La Rioja, Castilla-León and Galicia. Back in medieval times, it was thought that this 700km route, linking Santiago de Compostela in Spain to Europe, reached the "end of the world" in the Finisterre Cape (finis terra in Latin), a place close to the city of St James the Apostle.
Nowadays, the Way of St James is the path that thousands of people select to embark on a journey of self-development throughout the year. Many people travel this route on foot, others ride bikes and some go by other means; every person has their own particular preference for travelling. Even though there is a heterogeneous mix of people with different motivations, the way to Santiago provides all pilgrims with a sense of inner accomplishment the moment they reach their final destination. For most people, just to arrive on 25th July in Santiago de Compostela, the city where the remains St James the apostle are said to be buried, brings immense happiness – a shared feeling among pilgrims since the saint´s day took place more than 1000 years ago.
Although there are 7 different "Xacobeo" roads that lead to Santiago de Compostela, the most widely used is known as the French Way. This route reaches Spain through the Roncesvalles Crossings (in the Navarran Pyreenes) and by Somport (in the Aragonian Pyrenees). Both ways lead the pilgrims into Spain, reaching Santiago de Compostela after traveling for 700 kilometers.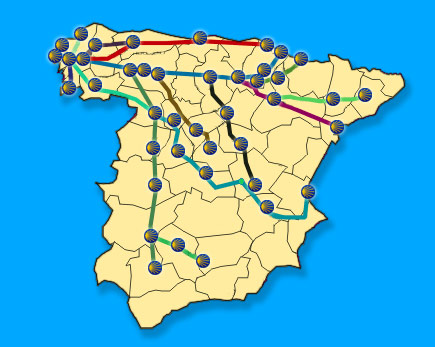 The Way of St James started out as a religious pilgrimage in which many devout Christians and people seeking penance went in search of the saint apostle, hoping to purge their sins and attain purification of their souls to get closer to God. Nowadays, religious believers make the journey alongside hill-trekkers and other travelers. All people, whether individually or in groups, seek to enjoy nature, the beauty of the villages they stumble upon and the pleasurable company of strangers they meet along the way.
The richness of the "O Camiño de Santiago" (as the Way of St James is known in Galician, the language spoken in Santiago de Compostela) is mainly based on the cultural and natural diversity found along St James' Way.
Pilgrims can enjoy the Pyrenees' stunning views as these mountains are the highest range in the Iberian Peninsula, with an altitude of 3,400 meters. Descending to lower and flatter lands, coming across incredible beech and oak tree forests, travelers can appreciate authentic Romanesque art monuments like churches and smaller chapels dating back to the 10th century.
When the road reaches the lower plateau, the scenery changes and becomes arid. Even though Aragón and La Rioja are profitable agricultural lands, the soil's redder shade differentiates these two regions from the rest. The vineyards of Navarra and La Rioja offer a gastronomic alternative that very few people dare to turn down.
The Castilian path is enhanced by the presence of castles and medieval fortresses. The pilgrim's knowledge and visual perspective is enriched by the many cathedrals, convents and churches of the local towns found along the way. The cathedrals of Burgos, León and Santo Domingo de la Calzada, as well as the churches of San Martin de Frómista or the Palacio de Gaudí in Astorga, are part of the architectural richness of the Castilian-Leonese part of St James´ Way. Also, pilgrims' lost strength can be regained in any of the towns along Leon's path by eating some of the best botillo leonés (a world class stew) accompanied by the local Bierzo wine, the value of which is increasing day by day.
The last stage of the French Way goes along Galicia. The lush, green vegetation accompanies pilgrims as they make their way through the region. The rugged terrain makes this last leg of the journey seem particularly challenging, especially if the pilgrim has travelled from very far away. But the closeness of Santiago de Compostela and the typical green and humid landscape of this area persist in inspiring the weary traveler to finish the journey. The Plaza del Obradoiro in Santiago de Compostela welcomes all the pilgrims who have reached their goal; for those who have made it, their reward is one of thorough and joyous happiness.
The French path (665 Kms.):
In Navarra

: Cunea, Mañeru, Cirauqui, Lorca, Villatuerta, Noveleta, Zarapuz, Estella, Ayergui, Irache, Azqueta, Villamayor de Monjardín, Villamayor, Urbiola, Luquín, Los Arcos, Sansol, Torres del Río y Viana;

In La Rioja

: Logroño, Fuenmayor, Navarrete, Nájera, Azofra, Ciriñuela, Hervías, Santo Domingo de la Calzada, Grañón;

In Burgos

: Redecilla del Camino, Castildegado, Vitoria de Rioja, Villamayor del Río, Belorado, Tosantos, Villabistia, Espinosa del Camino, Villafranca Montes de Oca, Alto de Pedraja, San Juan de Ortega, Agés, Barrios de C., Atapuerca, Olmos de Atapuerca, Ibeas de Juarros, Cardeñuela, Orbaneja, Rubena, Castañares, Villafría, Villayuda, Gamonal, Burgos, Villalbilla de Burgós, Tardajos, Rabé de las Calzadas, Hornillos del Camino, San Boal, Hontanas, Ruinas de San Antón, Castrogeriz, Itero del Castillo, Puente Fitero;

In Palencia

: Itero de la Vega, Boadilla del Camino, Frómista, Población de Campos, Revenga de Campos, Villovieco, Villarmentero de Campos, Villalcazar de Sirga, Carrión de los Condes, Santa María de Benevívere, Calzadilla de la Cueza, Santa María de las Tiendas, Lédigos, Terradillo de los Templarios, Moratinos, San Nicolás del Real Camino;

In Leon

: Sahagún, Calzada del Coto, Bercianos del Real Camino, Calzadilla de los Hermanos, El Burgo Ranero, Villamarco, Reniegos, Mansilla de las Mulas, Villamoros de Mansilla, Villarente, Arcahuela, Valdelafuente, Puente Castro, León, Trobajo del Camino, La Virgen del Camino, Fresno del Campo, Oncina de la V., Valverde, San Miguel del Camino, Chozas de Abajo, Villar de Matarife, Villadango del Páramo, La Milla del Páramo, San Martín del Camino, Villavante, Puente Órbigo, Hospital de Órbigo, Villares de Olmo, Santibáñez de Valdeiglesias, San Justo de la Vega, Astorga, Valdeviejas, Murias de Rechivaldo, Castrillo de Polvazares, Santa Catalina de Somoza, El Ganso, Tabacal del Camino, Foncebadón, Cruz de Ferro, Manjarín, El Acebo, Riego de Ambrós, Molinaseca, Campo, Ponferrada, Compostilla, Columbrianos, Cuatrovientos, Fuentes Nuevas, Camponaraya, Cacauelos, Pieros, Villafranca del Bierzo, Pereje, Trabadelo, La Portela de Valcarce, Ambasmestas, Vega de Valcarce, Ruitelán, Herrerías, La Faba, Laguan de Castilla;

In Lugo

: El Cebreiro, Liñares, Hospital de la Condesa, Alto del Poio, Biduedo, Triacastela, San Gial, Samos, Calvor, Aguiada, Sarria, Fonte, Barbadelo, Rente, Barreiros, Pena, Ferreiros, Miralles, Cortes, Portomarín, Gonzar, Castromayor, Hospital da Cruz, Ventas de Narón, Ligonde, Eirexe, Lestedo, Casas Revoleas, Palas de Rey, San Julián, Mato Casanova

In La Coruña

: Leboreiro, Furelos, Melide, Santa María de Melide, Bonete, Castañeda, Ribadiso, Arzúa, Calle, Salceda, Empalme, Santa Irene, Rúa, Burgo, Arca, Amenal, Lavacolla, San Xordo, San Marcos, Monte del Gozo, San Lázaro, Santiago de Compostela.