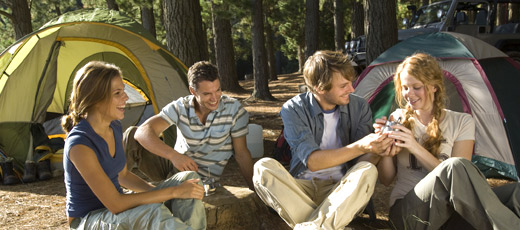 Spain offers a wide range of possibilities for camping. However, it is important to remember that free camping is only permitted in a few designated spots.
When we have a few days of vacation time and we want a change of scenery, one of the issues that we face is: where are we going? The ongoing argument between lovers of the beach and the mountains usually results in a compromise whereby the holidays are split in two and half the time is spent in one place and half the time is spent in another.
While this may seem like an expensive compromise that could only be reached by agreeable couples with a good amount of money behind them, I am here to tell you that this doesn't have to be the case. Since the mid-twentieth century, a new type of holiday has been born that includes the countryside, the beach, roads and highway, where modern campers move like snails with their houses in tow. Camping offers us a welcome alternative to the traditional "static" holiday enjoyed by those fortunate enough to have a vacation in the first place.
Spain offers a wide range of possibilities as far as camping is concerned. However, it is important to remember that free camping, i.e. the ability to pitch our tent, caravan or motor home where we please is only permitted in a few designated spots. Normally we need to go to a campsite. According to the National Statistics Institute, Spain has more than 1,250 campsites distributed throughout the country. These same statistics show that more of these establishments are located in seaside locations compared to inland areas. By far the best autonomous communities in terms of camping are of course, Cataluña, Valencia and Andalucía. In fact, these three cities alone account for more than half of all Spanish campsites.
Seasonality is an important factor to be taken into account when organizing a holiday in a tent or caravan. This is because, from October through to March, only one third of all camping establishments in Spain will be open for business. Undoubtedly, the most popular time to go camping is between the months of May and September.
Just as hotels are categorized by a standardized system of stars that are awarded based on the quality their installations and location, campsites in Spain are also categorized by a system of tents: a four-tent campsite for example would be a "luxury" establishment that offers individual camp spaces of up to 80 m2, laundry service, a supermarket, common areas with television, parks for kids, at least three fields for sports, a restaurant, a swimming area (natural or a swimming pool) and many more creature comforts. A three tent classification is awarded to high quality sites which guarantee hot water in at least 50% of the showers, a restaurant within at least 500 meters, a self-service laundry area, a park for kids, one sports field, a swimming pool and individual camping spaces of 60 m2. Establishments classified as one or two tent sites (or marked simply with a triangle) offer services that may be more rustic, but which are sufficient enough to accommodate campers hoping to enjoy a few enjoyable days away from home. Websites such as www.campingdir.com and www.foro.zonacampista.es or also online forums, in which users share their camping experiences, are all good places to find information about different campsites and what each one offers.
Campsites in Spain cater to a wide variety of vacationers; whether you are a nomadic type that never stays in the same place more than two days in a row, or a family that often remains in one vacation spot for fifteen days, there's a site for you. Accommodations are designed to meet the needs of anyone from adventurers that arrive with a light backpack, roll-up mat, sleeping bag and a basic tent, to those that come with a family-size tent, a camping trailer that can be installed to the site, or the latest recreational vehicle with satellite television, oven, microwave, shower and beds with anatomic mattresses. No matter what you're looking for, you'll find an option that's right for your budget.
Affordability however is not the only thing that makes camping so appealing. Going camping is more than just a vacation; it's a whole new approach to spending leisure time, where discovering special places and a certain level of adventure take precedence over assured comfort and following the routine.