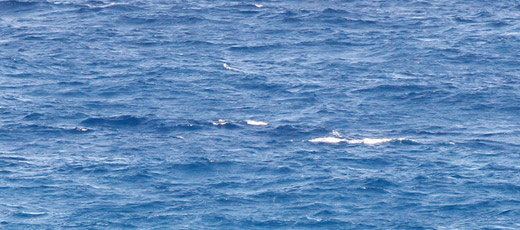 El Cachucho is an underwater mountain range in the Cantabrian Sea, also known as the Bay of Biscay, off the coast of Asturias in Spain.
El Cachucho is an underwater mountain range in the Cantabrian Sea, also known as the Bay of Biscay, off the coast of Asturias in Spain. The area is rich in underwater fauna and recently became a nature marine reserve. In a Council of Ministers meeting on March 14, 2008, in response to a proposal by the Ministers of Foreign Affairs and Cooperation, Defense, Development, Education and Science, Industry, Tourism and Commerce, Agriculture, Fisheries and Food, and Environment, an agreement was reached to adopt environmental measures to protect the El Cachucho marine area.
El Cachucho is connected to the littoral platform by an inner basin with a depth of between 400 and 850 meters (1312- 2788 ft). This interior basin is formed by bedrock and sediments that provide a biologically rich habitat for sea animals that live in both in the underwater mountains and the sea beds of the littoral platform, such as monkfish or megrim.
The northern façade of El Cachucho is the largest in Europe and is very steep, reaching up to 4,000 meters (13,123 ft) into the abyssal zone. This sudden dip in the land was formed by same movements and compression in the Lower Tertiary that formed the Cantabrian Mountains and the Picos de Europa.
In the 1930s, an oceanographic research vessel called the Président Théodore Tissier conducted a study in the El Cachucho zone. The study, titled "Les Profondeurs de la Mer," was published in 1948 by the Frenchman Edouard Le Danois. The scientific research in the report highlighted the economic importance of the sandbar to the fish that inhabit the area, known today as the Le Danois sandbar.
Recent oceanographic research has demonstrated that the El Cachucho is a biodiversity hotspot. The success of the rich marine life in the area is due to the currents that cross the inner basin carrying large amounts of krill from the bottom of the basin and the open ocean, forming what is known as marine snow and providing a great source of food to the marine life.
Additionally, the rocky formations of El Cachucho provide a home for colonies of corals and sponges, which in turn provide food and shelter to other life forms. Biologists have been able to catalogue 550 marine species in this rich marine ecosystem, many of which were new discoveries to science. Among these new species identified were two classes of giant squid, one of which possesses strong hooks on its tentacles which are likely used to catch prey.
Surely El Cachucho Marine Reserve holds many more secrets within its depths, anxiously awaiting discovery.