Take a look at some of the most incredible Game of Thrones season six filming locations in Spain and watch GoT comes to life from Navarre to Almería.
Are you in Girona or Braavos, Almería or Meereen? Sometimes it's hard to tell with so much of Game of Thrones set in Spain this season! And with season six about to be released (hurray it's finally here!...well, almost) we couldn't be more excited to look at some of these filming locations and at some of Spain's most incredible landscapes where Game of Thrones truly comes to life!
Game of Thrones with its swords and spikes, surprises and new lands around every corner keeps us on our toes. Remember when they killed off Ned Stark? Sorry for the spoiler if you haven't seen it, but who hasn't? That's season one already! And for all of you diehard fans, you will be excited to hear that throughout the series and particularly in the last season, season six (no worries, no spoilers here), some of the most incredible, fairytalesque landscapes that you think have been created by the most talented special effects artists are actually real, live locations in Spain. It's possible to experience Dorne or walk through the streets of the free city of Braavos in person on the Iberian Peninsula, which combines some of the most starkly different and breathtaking landscapes all in one country. Take a look at some of the most stunning filming locations in Spain and get ready to get excited to come to Spain and watch Game of Thrones come alive.
Bardenas Natural Park, Navarre  (Dothraki Sea)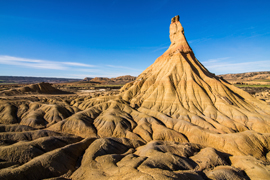 The Bardenas Reales, a natural park in the southeast of Navarre is truly an otherworldly location. It is made up of sand, clay and chalk and covers more than 100,000 acres (about 25 miles north-south and east-west). The lack of vegetation and the type of soil have allowed water and wind to turn the area into winding, worm-like bulges, massive canyons and plateaus, sharp peaks and deep, smooth valleys. It is the perfect ominous setting for the Dothraki Sea and is a stunning sight to see in person. The natural park spans over 16 municipalities in Navarre and Zaragoza, and makes a great trip from Pamplona or Zaragoza, venturing out of civilization and into a wild fantasyland come to life.
Peñíscola (Meereen)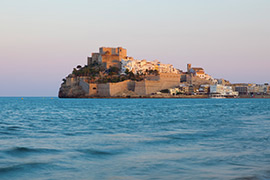 In Peñíscola, you can experience Meereen up close and personal. Imagine an old walled city overlooking a vast bay (ok, so it's the Mediterranean), its high, sharp stone walls and cobblestone streets, and you've not only found the largest city on Slaver's Bay, you're also in Peñíscola. Some of its iconic locations such as Portal Fosc, the Plaza de Santa María which appears as the granary in Meereen in GoT, the Parque de la Artillería and the Plaza de Armas are stunning on their own, but if you imagine yourself as just another freed slave, or as Daenerys in her pyramid overlooking it all you'll be transported. Peñíscola makes a great trip from other larger cities like Valencia  for the day or from Barcelona for an overnight.
Girona (Braavos, Oldtown, King's Landing)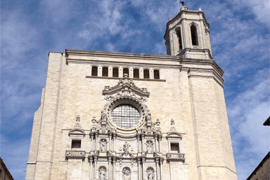 Girona's Romanesque and Gothic architecture and medieval walls are predicted to hold GoT's Oldtown, the Free City of Braavos and a few scenes from King's Landing in season six. Braavos' street markets roar to life on Girona's cobblestoned streets (check out Ferran el Catòlic, Sant Martí and l'Escola Pia streets to get a sneak-peak at where the action happens), the exterior of Sant Pere de Galligants Abbey comes to life as a Braavosi bridge, some alley scenes for Oldtown are shot in the city's winding historic center, and the façade of the Girona Cathedral is transformed into the Great Sept in King's Landing. But being transported into the world of Game of Thrones doesn't mean you have to miss out on any of the modern day treats Girona has to offer. Visit this city for the day from Barcelona and get a mouthful of Catalonian cooking and explore its impressive galleries, museums and architecture.
Almería (Meereen, Sunspear, Dothraki Sea)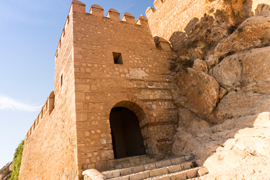 Almería, with the second largest Moorish fortress in Spain, after the Alhambra in Granada, the Faro de Mesa Roldán and the Tabernas Desert is the perfect shooting location for a little of everything; the predictions are in and have forecasted scenes from Sunspear (the Alcazaba) Meereen (the Faro de Mesa Roldán), the Dothraki Sea (the desert of course) to be shot at these locations. Jump into the game while wandering the Alcazaba, walking to the lighthouse, or exploring the desert. Almería makes a perfect overnight trip from Malaga
The countdown is here! Less than three weeks to go! And winter in coming… well actually summer is coming… but it is still the perfect time to prepare. Get ready to see Game of Thrones season six and maybe even do it in Spain! Why not!