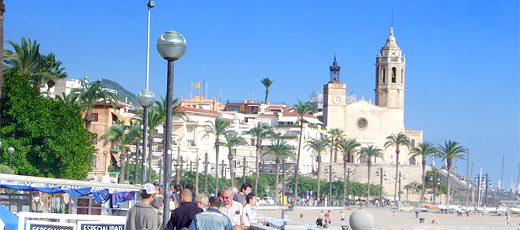 Gay Guide to Sitges – Here you can find information about Sitges Gay Bars, Sitges Gay Beaches, Sitges Gay Saunas and Gyms, events and more.
The city of Stiges is located in Catalonia, Spain, approximately 21mi/35km. southwest of Barcelona. Sitges is a famous vacation destination; world renowned for its beaches, nightspots and historical sites. Additionally, it boasts a wide range of cultural events such as its international Film Festival and Carnival. In the 19th century the famous Catalan painter Santiago Rusiñol began frequenting Sitges every summer adding to its artistic appeal. By the 1960s, Sitges became known as the center for Spanish counterculture and nowadays it is known as one of the most gay-friendly places on Earth. Sitges has gay bars, beaches, restaurants and much more within a short distance, making it one of the most popular destinations for gay and lesbian travelers.
The information provided in this gay guide to Sitges is for general guidance only and is subject to change. Confirm all information before making plans.
Gay Bars & Clubs
Stiges has a wide range of gay and lesbian bars where you can sip on cocktails, beer or sangria and take a nice break from sunbathing. Find your favorite bar and stay in it or go on the bar crawling on the bar circuit. Most bars start to get busy around 12 pm an onwards, starting with smaller bars first. These are some of the options:
Air Coco - chill-out relax bar where you can watch the sunset.
Bar Azúl - on Bonaventura Street, a great meeting point for a night out.
Bar Comodín - famous for drag queen shows.
Bears Bar - hosts Bear parties in the summer.
Bourbons Bar - great drink prices and a dark room.
El Candil - home to Sitges most famous Cabaret Show on Sundays
Dark Sitges Bar - a newer bar with great interior design and lighting.
El Horno - popular happy hour specials.
L'Aixeta - traditional Catalan tapas bar.
La Locacola - great music and French wine.
Man Bar - decorated with chains, metal and discreet lighting and a dark room. Marypili - oldest lesbian bar in town, delicious cocktails.
Mediterraneo - large and beautiful bar with a stunning interior.
Oreks - popular bar with a dark room, strippers and great drinks.
Parrots - Sip a drink on the terrace while observing people returning from the beach.
Privilege - Barcelona-style bar with theme nights and French flair.
Queenz- great music, fun atmosphere and live shows on Thursdays.
Sitthai Lounge - a relaxing cocktail lounge with sumptuous surroundings.
XXL - popular Sitges' dance bar with a dark room.
Once you have finished your lap around the gay bar circuit, head out to one of the after hours clubs. Make sure to wait until three am or so, or you will find yourself alone.
AtlántidaDisco- beautiful outdoor nightclub with views of the sea. Home to the Gay Beach Party on Tuesday nights from July to early September.
Organic-one of the busiest clubs in Sitges. Opens around 3am and plays pop and house music.
Ricky's- first club in Sitges, opened since 1970 and gay friendly.
Trailer- One of the oldest gay clubs in Spain, more hardcore than Organic and home to great foam parties on Wednesdays and "Lights-Out" events on Thursdays.
Gay Restaurants
Sitges offers a wide range of dining options to cater to its highly diverse and international crowd. Most of the restaurants offer an excellent value on three course meals including wine. There are also many snack bars and friendly cafes if you are looking for a quicker bite to eat. The following options are good value for your money gay friendly or gay owned establishments:
Air Bahia-local fresh food and international cuisine.
Beach House- award winning chefs and great value on daily menus.
Café Al Fresco- breakfasts, sandwiches, full bar and outdoor terrace.
Crepería del Mar- in Sitges center, offers crepes, waffles, ice cream and natural juices.
Exquisit - Located in the Port of Sitges. International chic flair and superb cocktails.
El Arte del Café- English breakfasts, vegetarian options pastries and coffee.
El Capricho - crepería with French recipe crepes, ice cream, and take away lunches.
L'Aixeta - Catalan food, breakfasts and tapas in the heart of Sitges.
Ma Maison - French and English cuisine, great value menus and cabaret shows.
Mont Roig - great for people watching, everything from burgers to healthy smoothies.
Parrots - good food, relaxing environment and a good terrace for people watching.
d'Angelo's - Pizzeria with fresh pasta and pizza.
SoCa - Southern California healthy cuisine and cocktails.
Sitthai - Thai cuisine in a beautiful restaurant in the heart of Sitges.
Gay Accommodation
Sitges offers a diverse selection of gay accommodation ranging from cheap two star hotels to five star resorts. The following is a selection of gay friendly and/or gay run and operated hotels:
Antemare Hotel 4* - in a residential area and 50 meters from the beach.
Calipolis Hotel 4* - modern, in front of gay beach and near bars and clubs.
Celimar Hotel 3* - 19th century building with architectural and artistic beauty.
Estela Hotel 4* - 5 minutes from Sitges in front of the Marina with views of the sea.
La Niña 4* - 4 buildings including La Santa Maria and La Pinta totally refurbished.
Liberty Hotel 2* - renovated 5 story house located in the center of Sitges.
Los Globos Hotel 3* - minutes from the beach and town center.
Masia Casanova 3* - built in 1842, a luxurious guesthouse in the Penedès wine region.
Masia Sumidores 3* - 10 min. from Sitges in Garraf National Park, a tranquil retreat.
Melia Hotel 4* - 1 mi. from Sitges overlooking theAiguadolç Marina with sea views.
Parrots Hotel 3* - located in the center of Sitges minutes from everything.
Platajador Hotel 3* - In the heart of Sitges with great views of the city.
Port Sitges Resort 4* - first class resort in the Marina, practically located on the beach.
San Sebastian Playa 4* - great location on the beach and in a tranquil area.
Subur Hotel 3* - Seafront hotel near the city center overlooking the promenade.
Subur Maritim 4* - residential seaside location with a good restaurant on-site.
Sunway Apts. 4* - Seafront location near golf club and 25 minutes from Sitges center.
Gay Beaches
Sitges is home to nine of some of the most beautiful beaches you will find in Spain. Dotted along Sitges' coastline are 3 predominately gay beaches:
Playa de la Bassa Rodona - The main gay beach located five minutes from the town center between the Red Cross Life Guard Station and Picnic restaurant.
Playa de las Balmins - Las Balmins is a mixed gay and nudist beach approximately ten minutes from the center of Sitges. Simply follow the sea path along the beach towards the left past a church, up a hill and past a cemetery. The beach will be in front of you.
Playa del Muerto - There are two gay beaches located about 50 minutes by foot from the town center and 10-15 minutes from L´Atlántida disco. These beaches are more uncomfortable due to the pebbly sand but they are a good option for getting away from the tourists' cameras in Sitges. In order to get there go to the end of the Atlántida parking lot where you will see a path. The first beach is approximately 10 minutes past the disco and is a mixed beach with a beach bar. The second beach is Playa del Muerto, an exclusively gay beach.
Gay Events
Sitges is a town that knows how to throw spectacular parties and the event calendar is one of the busiest in all of Spain. Christmas, Three Kings, Carnival, Fiesta Mayor, Santa Tecla, Corpus Cristi, San Joan and the international film festival represent just some of the festivities. A true gay destination, Sitges also has its own fair share of gay and lesbian activities including:
Sitges Gay Carnival
International Bear´s Meetings and Mr. Bear Sitges events
Gay Beach Parties
Foam Parties
Sitges Gay Pride Parade
The Legend Party (Lesbians)
Gay Shopping, Saunas and Gyms
No gay trip is complete without some retail therapy, relax time and hitting up the gym. Again, Sitges will not disappoint because it is a great place to in browse through designer clothes shops like G-Star, Puma, Bickembergs, Calvin Klein, Dolce and Gabanna and Versace. After shopping you may feel inspired to work out in a gym. Sitges has several gay friendly gyms including GSS Gym, Vital Fitness, Gimnasio Vilata and Smash! Pilates Sitges. No vacation is complete without some good relax time. Indulge in a relaxing massage at one of Sitges gay saunas: Casa Relajse, Parrots Sauna, or Sauna Sitges.
This Sitges guide to a fabulous gay-friendly holiday is just a small example as to why Sitges is one of the top gay and lesbian vacation destinations in the world.