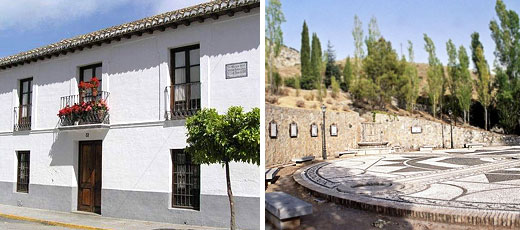 Federico Garcia Lorca. Some of the most relevant places from Lorca's life are in and around the Spanish city of Granada.
Federico García Lorca is often considered one of the most outstanding poets of the 20th century. He also established himself as one of the most important playwrights of his time. His literary works continue extending influence and inspiration beyond Spain's borders to reach distant corners of the planet.
Federico Garcia Lorca - Relevant Places in his Life
Just as Pablo Neruda is associated with Isla Negra, or Salvador Dalí with Figueres and Cadaqués, Lorca is associated with Granada. Some of the most relevant places from his life are in and around that city, a life described in the 1989 biography entitled Federico García Lorca: a Life, by Lorca expert Ian Gibson.
Federico Gª Lorca was born near Granada in the village of Fuente Vaqueros, a place surrounded by prairie land where the Genil River flows, tobacco grows, and poplar trees thrive. Lorca was born in a house located on a street that has since been named after him. The two floor house with a beautiful backyard patio has been converted into a museum that displays the ambience and décor from the time of the poet's birth. Enter the historic home and prepare to feel as though you've teleported to the past, where a highly informed guide offers curious insight into Lorca's early life. Check out the poet's crib, where he dreamed his first visions, watch a film that offers some of the only remaining images of the literary legend in motion, visit the attic and see first editions of his works, theater costumes from his plays, magazines and newspaper from his time, and written dedications from friends such as Salvador Dalí, Luis Buñuel, and Rafael Alberti.
The family also had a house in Valderrubio, located some 400 meters from Fuente Vaqueros, where they spent some time during the writer's childhood. Lorca penned some of his very first literary efforts here, such as his early piece Impresiones y paisajes (1918). This house has also been converted into a museum, where visitors can imagine the family atmosphere that inspired two of Spanish theaters most celebrated masterpieces: Yerma and La casa de Bernarda Alba.
Our tour of Lorca's world takes us toward the capital, just south of Camino de Ronda to Huerta de San Vicente, a summer house in which the poet and his family attempted to beat the heat of summertime Granada. La Huerta de San Vicente gives Lorca fans a revealing peak into the poet's surroundings as an adult: the piano he played for his sisters, the bedroom full of memories from friends, his desk…
When an armed uprising erupted against the Republic on July 18, 1936, Federico was advised to disappear from Granada, as he was the well-known director of the theater group called La Barraca. The group had worked with the Republican government to promote classic Spanish theater in Spain's small towns, and Lorca's friends were concerned about his safety in a time of political unrest. He refused to escape, instead taking refuge in the home of his friend the poet Luis Rosales, whose family members were Falangists and sympathized with the rebellion. This house is now the centrally located Hotel Reina Cristina. Management has conserved the original structure of the Rosales' residence, from which Lorca was violently taken on August 16, 1936. The University of Granada's attractive Department of Law is nearby, which in 1936 housed the Civil Government of Granada, where Lorca spent the days between his arrest and his execution by firing squad.
The tour of Lorca's world must end at Federico García Lorca Park, located on the stretch of highway between the towns of Viznar and Alfacar, several kilometers north of Granada. This is where the literary genius was executed at 4:45 in the early morning of August 18, 1936, together with a teacher (Dióscoro Galindo) and two anarchists (Federico Galadi and Joaquin Arcollas). Their bodies were left in a communal grave, the location of which has remained a mystery to this day. In 2009, under the Historical Memory Law, the grave believed to be Lorca's was opened, but the victims of anti-Republican uprising were not found. A poem by an anonymous author asserts: "Entre Víznar y Alfacar / mataron a un ruiseñor / porque quería cantar" (Between Víznar and Alfacar / a nightingale was killed / because he wanted to sing).
Each year, Federico García Lorca Park hosts an event that pays homage to the poet and to all the victims of the Spanish Civil War. The park is decorated with tiles with Lorca poems, an Alhambra-style fountain, and a monolith next to the olive tree where the poet was executed that reads "Lorca eran todos" (Lorca was everyone). Antonio Machado's poem El crimen fue en Granada (The Crime was in Granada) is one of the most beautiful tributes ever written about this poet whose life was ended so unjustly.