Check out the top 7 things to do in Spain this spring: from big things to small surprises, we hope you'll be inspired to stop and smell the roses in Spain this season.
Spring is here! The blossoms are blooming, the sun is shining, it's time to put a little spring in your Spanish, and here's a little guide to help you do it. If you're wondering what to do in Spain this spring we've got you covered. Take a look at our top 7 – both big and small, it's best to see them all this spring!
Sweet Smelling Almond Blossoms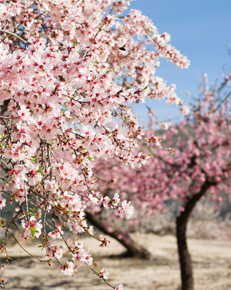 Sometimes the simplest things are the ones that make our hearts sing the loudest. The delicate petals and spring smell of almond blossoms sprinkled throughout Spain, but especially in Malaga, tell us winter is over and it is time to shed our thick winter coats and run naked through the fields (ok, so maybe not, but the new blooms really do give us a little more energy and put a sparkle in our eye). Spring in Spain is magical; the rains in the winter have left bright, excited sprouts everywhere you look, and everything is full of possibility as kelly greens, bubble gum pinks and soft purples giggle up from the earth to say hello and make us smile.
Sevillanas, Polka dots… the Feria de Abril!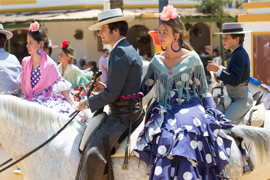 The Feria de Abril in Seville is the perfect place to get overwhelmed with polka-dots and ruffled dresses, lay back and relax as horse drawn carriages pass by with southern gentlemen and ladies in traditional Spanish costumes and let the clacking of flamenco shoes and castañuelas carry you away. The fair starts a few weeks after Semana Santa (Holy Week) and is a real treat from the rich Andalusian culture in Seville. The spring weather is perfect for enjoying the huge fair ground, wandering through the brightly colored casetas (big tents filled with flamenco-dancing-tapas-eating-partying people) and taking in all of the noise and flash of this exciting southern festival.
Tapas on the Terrace
The freshest ingredients under the sun have started to pop out of Spain's gorgeous gardens and into its restaurants in the spring. Restaurant terraces have begun to open, umbrellas are coming out and it is time to eat some of Spain's garden fresh treats out in the sun. Savor a salty tomato and tuna salad or get adventurous with a plate a pimientos de Padrón (unos pican unos non – little green peppers that are a mix of spicy and mild – you never know what you're going to get, surprise!). And even though these two are not springtime related, the famous tortilla de patata and a nice glass of red wine or tinto de verano (a slightly sweeter, lighter version) are always welcomed guests at a terrace table in the spring. 
Lonely Beaches, Sparkling Marinas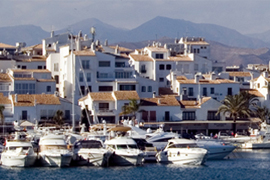 The sun is shining and the weather is sweet. Spring is a wonderful time to enjoy some of Spain's spectacular beaches and stroll through some of the coastal cities' lovely marinas. The weather has warmed but still hasn't bubbled over (we're talking mid 70s rather than upper 90s or even into the 100s) and there are minimal crowds. You might even get a small cove all to yourself if you're lucky. The sea will invite you to dip your toes into its calm waters in places like Barcelona (it may still be a little chilly there) and to dive all the way in in more southern locations like Malaga, Marbella or Alicante.
Pops of color in the casco antiguo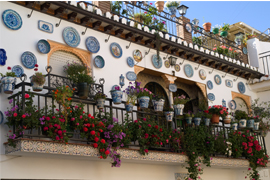 As the weather warms, balconies and terraces in Spain come to life. Everywhere you look blood red geraniums bloom in traditional ceramic pots and containers dangle out over the streets, bringing a little color to the streets after a cold winter. Some of the most beautiful painted ceramics and springtime flowers can be seen in the Albayzín in Granada, but hanging pots and lovely plants can be seen sprouting from city terraces in historic city centers throughout all of Spain.
Sightseeing without the Crowds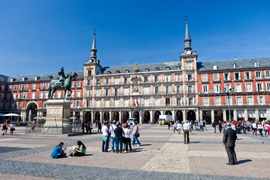 Even though spring is one of the most pleasant times of year to come to Spain when it comes to the weather, it is surprisingly not as stuffy with other eager tourists as the sweaty summer months. So whether you want to lounge on the beach without having to weasel your way into a three by five beach towel parking spot, see your favorite Goya, Picasso or Velazquez without other art fans breathing down your neck or wander the streets to see the most stunning monuments and beautiful plazas among locals rather than other guiris, spring is a great time to do it. An added bonus: it's nice and warm during the day for a caña in your favorite plaza, and nice and cool at night for a good night's sleep even without air conditioning.
Take a Hike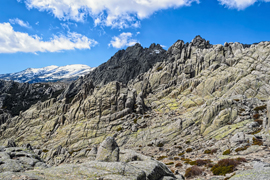 The snow is thawing (or completely melted) and the mountain air is fresh. Spring in the mountains (no matter where you are in Spain) is spectacular. It may still be possible to hit the slopes in some parts of Spain, the Sierra Nevada in Granada  is known for a famously long season (November through May) and in these spring months, the white-washed mountains are also bathed in lovely spring sun. But slopes aside, hiking up a trail in the Sierra of Madrid (just outside the city) or in the Pyrenees (close to Barcelona) is always a treat filled with fresh new flowers, sparkling natural pools, and even cows (or at least the plops) grazing the newly sprouted mountain grass.