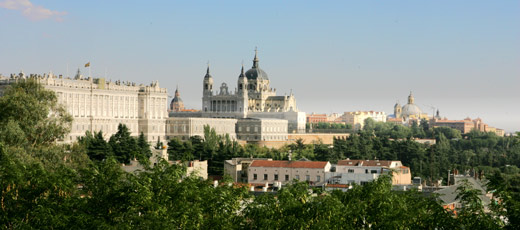 Learn more about the most important and interesting facts about Spain.
In this section we will present you with important facts about Spain regarding geography, specific data and statistics, etc. Later it will get more interesting with more facts about Spain and also facts about Spain for kids. Enjoy!
Important and Interesting Facts about Spain
In this section you will find important interesting facts about Spain including statistical, geographical, and political facts about Spain.
Spain Official Name: Spain is called España en Spanish which is said to come from the Roman name Hispania. The official name of Spain is: El Reino de España (The Kingdom of Spain).
Spain's Geography: Spain is located in southern Europe and occupies 85% of the Iberian Peninsula. Apart from that, the nation is also made up of the Balearic Islands (located to the east of the peninsula in the Mediterranean Sea), the Canary Islands (+1.000 km/621 mi south of the peninsula just off the coast of Africa), 2 cities in Northern Africa called Ceuta and Melilla, and three small island possessions off the coast of Morocco: the islands of Chafarinas, Penon de Alhucemas, and Penon de Velez de la Gomera. Additionally, Spain is the closest country to Africa, with a separation of only 14 km (8.7 mi) at the closest point.
Span's Borders: Mainland Spain shares borders with France and Andorra in the northeast, Portugal in the west and to the south it shares a very small border with Gibraltar, UK. Additionally, Melilla and Ceuta share borders with Morocco.
Spain's Climate: The climate in Spain is very diverse throughout the various Spanish regions. Contrary to popular belief, the vast majority of central Spain has very cold winters.
Regions: Spain has 17 autonomous communities: Madrid, Catalonia, Valencia, Andalusia, Basque Country, Asturias, Galicia, Aragon, Balearic Islands, Canary Islands, Castile-La Mancha, Castile-Leon, Cantabria, Extremadura, La Rioja, Murcia and Navarra. Each autonomous community has a capital. Madrid is not only the capital of the autonomous community of Madrid, but also of the whole country.
Spain's Beaches and Coasts: Spain has 4,964 km/3,084 mi. of coastline beaches. You can bathe in the Mediterranean Sea to the south and east, in The Bay of Biscay to the north, and in the Atlantic Ocean to the west.
Spain's Languages: 74% Castilian Spanish (official language). Regional official languages include: Catalan 17%, Galician 7%, Euskera (Basque) 2%.
Spain's Size: 194,897 mi² or 504,782 km², a little more than double the size of the Oregon State, USA and the second largest country in Western Europe and the 51st largest country in the world.
Spain's Population: 40,525,002 (Estimation: July 2010).
Spain's Time zone: +1 GMT. In Canary Islands: +0 GMT.
Spain's Currency: The Euro € replaced the Spanish Peseta in 2002.
Spain's Flag: Horizontal bands in red and yellow with a coat of arms displaying emblems of the traditional kingdoms of Spain.
Spain's Independence: 1492; when Granada was seized and the Muslim occupation of Iberian Peninsula ended with the unification of several kingdoms forging present-day Spain.
Spain's National Day: 12 October - celebrates Columbus' arrival to the Americas in 1492.
Spain's National Anthem: La Marcha Real (The Royal March). The anthem has no lyrics.
Spain's Life Expectancy: average of 80 years old, one of the highest in the world.
Spain Religion: Approximately 90% + of the population is Roman Catholic. However, only about 20% regularly go to church.
Spanish Government: Political Structure: Parliamentary monarchy (since 1978).
Spanish History: Browse topics in our section on Spanish History.
Spanish Gastronomy: Learn about the Mediterranean diet and Spanish eating customs or browse through our Spanish Recipes.
Facts about Spain for Kids
Now that you know all the important facts and fun facts about Spain, we also have some Spain facts for kids. The following facts are some of our favorite fun facts about Spain for kids.
In Spain there is no tooth-fairy, but rather a little rat called Ratoncito Pérez that leaves gifts or money under your pillow.
In Spain kids celebrate something similar to 2 birthdays: their actual birthday and the day of their Saint (based on their name).
Kids also celebrate something similar to two Christmas holidays: The 25th of December and also the 6th of January, Three Wise Men day. Normally, they get gifts on both days.
On Three Wise Men day, they are big parades called a cabalgatas in which traditionally the three wise men appear on camels and everyone in the parade throws candies to the crowds.
No need for Disneyland, in Spain there are plenty of amusement and water parks to keep any kid busy.
A popular puffed air snack in Spain is called gusanitos which means "little worms".
In local festivals, costumed characters known as cabezudos and gigantes (Big-heads and Giants) chase children through the streets chastising them and giving them treats. A good example is the festival of La Mercé in Barcelona.
The 28th of December is the day of Santos Inocentes(Innocent Saints). It is much like April Fools day and children make mischief and play tricks on people.
Hot chocolate (chocolate caliente) in Spain is very thick and often eaten with churros (fried pastries with cinnamon). Ask for a Cola Cao if you want what most Westerners would consider hot chocolate. It is typically Spanish, often eaten at breakfast, kids love it, and it is really tasty!
First communions are very important in Spain and the God parents have significant roles in the festivities.
Important kids cartoons include Pocoyó and Los Lunnis.
There are lots of events that kids will love in Spain. Learn more in Spanish fiestas.