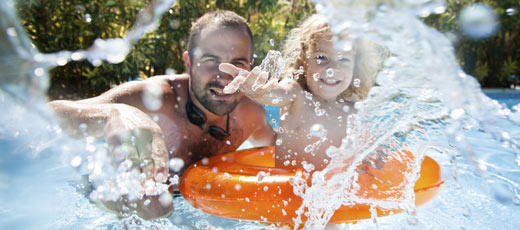 There're different types of vacations that give kids and parents the chance to enjoy spending their free time in a creative and fun way together as a family
When vacation time comes around, those of us with too little free time must face a challenge; organizing days off wisely to get the most out of them. In the days leading up to a vacation, we're often assaulted by uncertainties about what to do during that time, and when you have kids under 15, appealing to the interests of the whole family can get pretty tricky.
Parents' long work days and kids' school schedules don't always harmonize well, and for most of us, practical times for spending quality time with the family aren't exactly abundant. During vacation, families often opt for the beach hotel solution, where the "everything included" package gives vacationers carte blanche to completely forget about worrying over the children's safety, who are off running around within the hotel facilities enjoying the absence of any watchful parental gaze as the parents themselves bask in the luxury of having a little peace and privacy.
There are however different types of vacations that give kids and parents the chance to enjoy spending their free time in a creative and fun way together as a family.
The kids' boundless energy and limitless curiosity are qualities to keep in mind when planning a family trip to Spain. The first surprise comes when you discover firsthand that young folks have an ability to communicate that may seem quite magical; after a few hours in a place with other kids that speak a different language, they seem to achieve some type of inexplicable interconnection. Language camps make use of this special talent that gradually disappears with age, and some also offer activities for parents. These camps offer kids the chance to participate in group activities, sports, arts and crafts, and they'll get to experience natural landscapes that are different from those they're used to. Parents can also start learning Spanish, or improve on the Spanish they already speak, in the same place as their kids or in a nearby city.
This is also the time to think about checking out the wonderful science museums located in many Spanish cities and where there only seems to be one rule: "do not touch". These are interactive places where kids can learn while having fun and adults can be kids again. You can find a map of these science centers at www.deciencias.net. Families can also explore the animal kingdom together at certain zoos that allow visitors to observe wildlife without the hindrance of bars or cages. The Oceanogràfic of Valencia, the aquarium of Barcelona, and Loro Park in Puerto de la Cruz in Tenerife are examples of exciting facilities that attract nature lovers of all ages.
Other outdoor activities adapted for families include: horseback riding, mountain biking, rafting, and mountain climbing. For more ideas on fun stuff to do with the kids during your vacation, take a look at www.ocioenfamilia.com or www.cofrentesturismoactivo.com, you'll get to do something different and learn Spanish in any of the most attractive destinations across Spain.
A family trip to Spain will open up the doors to a whole new country, a place that offers much more than just summer beach vacation options, a place for learning Spanish naturally and enjoyable, which will allow you and your family to live together with the people of Spain and get to know its rich culture.