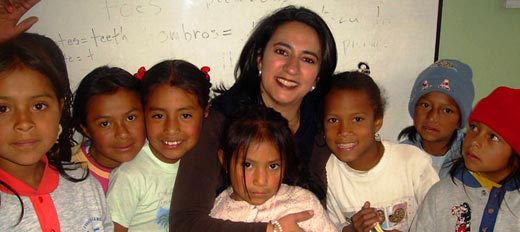 NGOs in Spain. There are hundreds of non-governamental organizations in Spain, each one with its own clearly defined goals and economic transparency.
Solferino, northern Italy. It's June 24, 1859. The French and Piedmontese armies go into battle with the Austrian army on the outskirts of town. The terrible conflict leaves 40,000 wounded and dead soldiers lain across the battlefield. It's a grisly scene that makes a strong impact on the conscience of Henry Dunant, a Swiss business man who happens to witness the disaster. As a 31 year-old Dunant observes the horrifying panorama before him, he notices there is a complete lack of military medical assistance. He decides to act.
With the invaluable help of women from nearby towns, Dunant begins to indiscriminately assist the victims of war, ignoring the uniform or nationalities of the wounded soldiers.
This inspiring act of generosity would eventually lead to the birth of an organization that has become a model for non-governmental organizations world-wide: the Red Cross, which was founded in 1863 in Dunant's home town of Geneva. The organization and its emblem (a red cross over a white background) are universally associated with altruistic assistance in times of need.
According to the Dictionary of the Royal Spanish Academy, a oenegé, or ONG, is a "non-profit organization that functions on social initiative, independent of public administration, with the mission of carrying out humanitarian activities".
In a world that for many is driven only by the dictates of money, there are still generous individuals who choose to dedicate part of their time, knowledge and work to help others while asking nothing in return. These people are an example of altruism that is as unexpected as it necessary.
These types of organizations cover countless aspects of common needs: from the protection of nature and wildlife to support of urban communities, assistance to victims of natural disasters, medical care for children in need or famine victims… There are different types of non-governmental organizations for just about any type of human suffering.
Some of the best known NGOs work on an international level, such as UNICEF (a part of the U.N.) and Cáritas (a part of the Catholic Church).
There are hundreds of these types of organizations in Spain, each one with its own clearly defined goals and economic transparency as a lawful organization. Among the most well known are Amnesty International which advocates human rights, Ecologistas en Acción (Ecologists in Action) which studies and works to protect the environment, Ayuda en Acción (Help in Action) devoted to improving living conditions in developing countries, Doctors Without Borders offering medical attention to people in conflictive areas of the world and where populations face endemic diseases, the Vicente Ferrer Foundation which promotes sustainable development in developing countries, Greenpeace which raises awareness and works to protect the environment, Manos Unidas (United Hands) which fights hunger and poverty and takes on causes provoked by those issues… And hundreds of other N.G.O.s.
The next time you come across an ad on TV, on the radio, or in the newspaper, requesting your help with one of these organizations, perhaps you'll experience something similar to what happened to the Swiss man mentioned earlier, and you will feel inspired to take the first step toward getting involved in the efforts of one of these groups. You will never regret it, and you will likely look to the future with a certain sense of optimism knowing that you are not alone, that there are people out there willing to selflessly help others, regardless of who or where they are. A proverb as old as it is valuable points out that: "even the longest journey begins with one step", and in the heart of Spain, elderly residents are known to state "grano no hace granero, pero ayuda al compañero" (literally: the grain doesn't make the grainery, but it helps a friend).