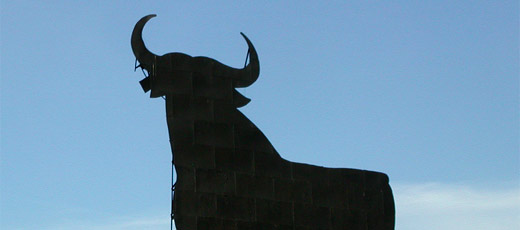 The Osborne Bull, Spanish Culture. Find out more information about one of the most iconographic Spanish symbols: the Osborne Bull (el Toro de Osborne).
One of the most recognized "national" symbols for all tourists visiting Spain, the Toro de Osborne is a huge black bull that watches over the Spanish roads. However, despite common belief, this bull is not a symbol of Spain, but the advertising logo used to promote a brandy-sherry by a group of wineries called "Osborne".
The Osborne group began in 1772, and with more than 200 years of experience it is considered one of the oldest businesses in the world that still remains active today (94th place), and is the second oldest in Spain.
It was founded by Thomas Osborne Mann, an English shopkeeper from Exeter who settled in Cadíz. In the Puerto de San María he struck up friendships with other winery owners who originated from Britain and married the daughter of one of the managers of "Duffy Gordon", with whom he had five children, the first Osbornes.
Two of his sons, Tomás and Juan Nicolás, inherited the business. The former took charge as soon as he was old enough; the latter followed a diplomatic career, and was named Count Osborne. Since Juan Nicolás had no heir, both his title and share of the business were inherited by his nephew, Tomás´ son who continued to run the business with great success.
In 1956 the advertising agent Azor, as instructed by the company, designed the first publicity campaign, the silhouette of a bull, made of wood and 4 metres high. These bulls were erected a year later in 1957.
From 1961 onwards they were made from metal sheets to avoid deterioration caused by harsh weather conditions, and the height was increased to 7 metres. However the new advertising rules published in 1962 forced to company to move the signs further away from the roads, and so they decided to make them 14 metres high, as they are seen today, so that they would be more visible.
There are in total 90 Osborne bulls distributed throughout the roads in Spain, 10 of them in the Cadíz province, but others can be found in all corners of the Peninsular. The wide distribution of this successful advertisement has meant that the Osborne bull is now associated with Spain itself and its silhouette is often seen on national Spanish football flags, t-shirts, caps, and towels etc.
The Osborne group continues to be a model family business in today´s food and drink industry, and the majestic bull, a symbol of Spain as it is now known, keeps watching over the country's roads.