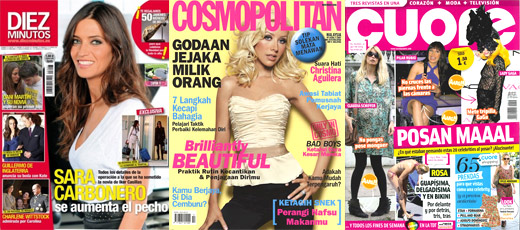 There is a huge selection of Spanish Gossip Magazines around the world which provide entertainment at the same time help you to learn Spanish.
Spanish media is obsessed by two things: football and gossip. And there is a huge selection of Spanish gossip magazines being published around the world. If your Spanish is up to it, these magazines offer a lively and revealing look into the private moments of the beautiful, rich and famous, and provide entertainment while at the same time, help you practice your Spanish.
Diez Minutos: The magazine is a classic spanish gossip feast with daily scoops based on the flimsiest of premises with story after story of love, separation, divorce, reconciliation and death. The two main chunks are headlined 'love' and 'partners'. They also have an online version of the magazine. For serious gossip addicts.
Hola: Spain's top weekly magazine and leader of the gossip world contains strong picture content and a round-up of well-known and less well-known aristocracy and showbiz folk. Apart from edited highlights from the present and past issues there is a report of the week, photo of the week and quote of the week. There's also a British Hello! and a French OhLa!
Revista CUORE: The third best-selling gossip magazine in Spain, it is mainly aimed towards a younger teenage audience who look for current celebrity gossip, but also for fashion and TV news. Uses a lot of colloquial terms.
Revista SEMANA: Spanish magazine covering the latest news on the famous in Spain and Hollywood. It also offers its readers information on fashion, beauty, cooking and travel.
Revista LECTURAS: Practical, friendly and informal, Lecturas is one of the most widely-read gossip magazines on the Spanish market today.
Marujeo.com: A blog serving up a daily diet of national gossip news on Spanish and international celebrities and the celebrity world, from a particular point of view.
Revista CARAS: A magazine published in various countries of Latin America, also exported to certain parts of the United States, brings together weird and wonderful news from around the world and the famous Latin community.
Revista PEOPLE EN ESPAÑOL: A monthly American magazine published in Spanish for the Spanish-speaking community. Well known for using real, reliable sources for their stories and for its yearly special issues naming "Most Beautiful People", "The Best and Worst Dressed", and "The Sexiest Man Alive". Will surely satisfy the cravings of any gossip-addict!