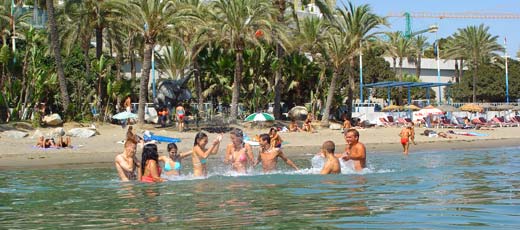 Learn more about the best moment to come to Spain and live a unique experiences. Summer holidays in Spain and the best options to enjoy Spain in summer.
When spring's unpredictable weather patterns give way to summer's sunny skies, an annual cultural phenomenon occurs: just as the salmon that swim in open ocean waters instinctively flock to their river of birth to spawn, just as the turtle returns to the beach from which it originally launched into the sea like an elegant, biological torpedo to assemble a nest in its place of origin… Spaniards go to the beach. Fortunately, we have plenty to choose from: relaxing golden sand Mediterranean beaches and cozy coves that guarantee peaceful seclusion, rough northern coastlines where many hope to catch the perfect wave, and even black sand beaches all await the anxious visitor. Inland cities nearly empty during the summer, where those not lucky enough to escape the daily grind remain stuck at work while droves of tourists from everywhere hit the sand sporting their favorite vacation attire (sandals with socks, curiously colored shirts, and the omnipresent camera to capture Spain in a week).
While this stereotypical image of tourism continues to exist in Spain, the idea of how to spend leisure time is changing here and heading in different directions – we're not really sure if it's for the better or the worse. Spaniards, and not only them, are updating their vacation operative system.
Tourists have somehow taught us to value what we have, and each year an increasing amount of people prefer to invest their free time enjoying the Music and Dance Festival of Granada, or experiencing the Theater Festival of Almagro, in the heart of the La Mancha region, to connect with the theater of Spain's opulent siglo de oro (golden century) period. Many travel even further into the past, taking in classical Greek or Roman theater in Mérida during its eight weeks of performances.
Besides cultural events, some festivals delve even deeper into Spanish tradition. Just outside of Madrid, in Chinchón, you can watch a bull fighting tradition that dates back centuries, and later return to Spain's capital to get caught up in the excitement of the countless summer fiestas the city offers. If you want to experience the passion of flamenco, the Festival de Cante de las Minas in Murcia will treat your ears to the best in cante jondo. There's something magical about the "Misteri" in Elche (Elx), an allegoric-religious stage performance that has been celebrated there for centuries.
Those that find physical challenges irresistible may want to check out Pamplona in July, where they can put their bravery, and their legs to the test in the San Fermines Festival's popular running of the bulls event, made even more famous by the writing of Hemingway. After getting chased by raging bulls you may feel like cooling off and taking a relaxing nature hike in the Valle de Arán, in the Catalan Pyrenees. Here you can visit Berga and the indescribable La Patum celebration. You'll also find incredible and magical landscape in Sierra de Cazorla, north of Jaen, where the Guadalquivir River is just a small stream.
One way you can take your summer vacation to a whole new level is by rock climbing in Iruñeta (Navarra). In Asturias you can get in on more sport action in Descenso del Sella (a canoe and kayak competition that attracts thousands of enthusiasts every year). Afterward you can test your climbing skills at Naranjo de Bulnes. Huesca, Malaga and Cuenca also offer the chance to explore stunning canyons and go white water rafting.
The Camino de Santiago, one of the most famous pilgrimage routes in the world, is a place for getting to know others and one's self, a spiritual journey that blends religion with philosophy. This pilgrimage toward inner balance takes travelers through spectacular landscape and offers them the chance to enjoy solitude and the camaraderie of other pilgrims.
Finally, if you're more interested in intellectual pursuits, you can always take any one of the many specialized spanish courses offered by universities and other learning centers around Spain.
Spain offers a variety of summer activity possibilities that's as wide as your imagination; you just have to know where to look.