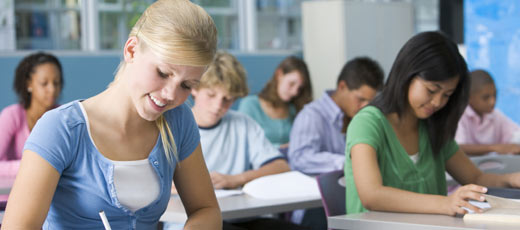 The UNED. In 2013, the National Distance Education University (better known by its initials UNED) celebrated its 40th anniversary.
Access to education is one of the rights stipulated in the Universal Declaration of Human Rights. Title 1 of Spain's 1978 constitution reads "Fundamental Rights and Duties", and in article 27 it goes on to refer to the right to education. Later, fulfilling the specifications laid out by the constitution, Organic Law 8/1985 specifies the following in its first article:
"All Spaniards have the right to a basic education that permits them to develop their own personality and to carry out a useful activity in society. This education will be obligatory and free of charge at the basic general education level, or when applicable, at the first level of professional training, and at the other levels established by the law."
"All also have the right to have access to higher levels of education according to their aptitudes and vocation, and will not under any circumstances be discriminated against while exercising that right based on the student's economic situation, social level, or place of residence."
This declaration of principles is not always easy to put into practice. Matters related to geographic isolation, insularity, and economic barriers or architectural barriers -for students with physical disabilities- are all factors, in addition to the inevitable economic barriers that so often complicate access to quality higher education.
In 2013, the National Distance Education University (better known by its initials UNED) celebrated its 40th anniversary.
In September of 1972, a Decree was published that lead to the birth of this institution, a public university. Since 2001, UNED has had the same legal status as all other Spanish universities, with just one difference: the campus of this education center is not a physical space with hallways and classrooms, but a virtual space that originally operated by mail and now functions in cyberspace and on radio and television. UNED, which originally limited its area of influence to Spanish territory with the intention of overcoming geographic barriers (the first and oldest school associated with UNED is in the Canary Islands), has a physical main office in Madrid and some 90 schools throughout Spain. Over the last few years, it has expanded to Latin America, where the institution continues growing.
UNED offers numerous degrees and certificates including 30 undergrad degrees, 50 masters, over 600 training programs and instruction in 12 languages, all in the form of online classes specifically designed to avoid not only distance barriers but also barriers related to physical and sensory disabilities. 250,000 people are enrolled in courses in which special attention is traditionally paid to people that often face obstacles in the way of higher education access. People 50 years and older, those serving out prison sentences and people with disabilities are generally the students that benefit most from this school. The university has by far the greatest number of students of any other university in Spain, and the second greatest in Europe behind Great Britain's Open University.
UNED played an early role in defending gender equality. In 1982 it was the first Spanish university to select a female president: Elisa Perez Vera, professor of international law and member of the constitutional court (the highest judicial court in Spain) until 2012.
UNED opens its virtual doors and welcomes students from a wide variety of backgrounds; people who have finished high school but live far away from a university, those that hope to combine studies with other responsibilities or pursue studies later in life, the unemployed that hope to make themselves more valuable job candidates, students with special needs, older students and those who have had their freedom temporarily removed can all study at this unique school.