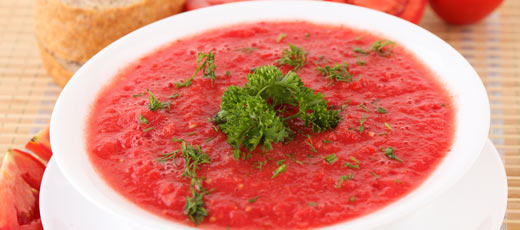 Taste Andalusian food, one of the main cuisines of Spain: Andalusian cuisine. Taste Andalusian cooking and its main dish: Andalusian tapas
Andalusian cuisine is famous for tapas, along with a variety of other Andalusian specialties. The food in this region of Spain is very rich and typical dishes contain an array of ingredients including Iberian ham, sausages from Huelva and fish from Cadiz or Malaga. These Mediterranean elements mixed with Arabic traditions merge to create traditional Andalusian cuisine, a tasty selection of foods well known and highly regarded in almost every city of Spain.
Throughout history, Andalusian gastronomy has been influenced by a mixture of Spanish, Jewish and Arabic traditions. People in Andalusia have a Mediterranean diet, so they use a lot of olive oil, red wine, fish, fruit and nuts in their cooking. If you come across any Andalusian pastries, you will surely notice the fusion of diverse culinary traditions. For example, the use of honey and almonds in cakes and sweets is typically Arabic. 
Although also popular in inland provinces, fried foods are particularly typical in Andalusia's coastal regions. One popular dish called Frituras is composed of breaded and fried seafood or fish. The breading is done in the Andalusian style, with no egg, and then fried in olive oil. Interestingly, Andalusia produces more olive oil than any other Spanish Autonomous Community. This Andalusian dish varies depending on the province, although the most common fried ingredients include: whitebait fish in Malaga, northern Bluefin tuna in Cadiz and deep-water rose shrimp in Huelva.
The two most common types of meat in Andalusian cuisine are Iberian ham and game. Huelva is famous for its Iberian hams which can be found and sampled in most of the tapas bars of this particular zone. In the mountainous regions of Andalusia, there are many wild animals hunted for their meat including: wild boars, roe deer, red deer and partridges.
Vegetables also play an important role in the diet of Los Andaluces. For example, gazpacho is a famous Andalusian cold soup made of tomato, garlic, bread, water, cucumber and peppers. A less known cousin of gazpacho is Salmorejo, another cold soup that originates from Cordoba. There are a couple of differences between Gazpacho and Salmorejo:
The only vegetable in Salmorejo is tomato (and garlic), while gazpacho includes green pepper, cucumber and onion. Salmorejo is usually thicker than gazpacho. Sometimes, it's so thick that it's used as a dip.
Andalusian Tapas
Anyone that has ever visited Andalucia will surely have fond memories of the tapas. Ir de Tapeo simply means to go round bars drinking and eating snacks. For all Spaniards, especially Los Andaluces, going to tapas bars represents an important social activity. One of the many reasons that Ir de Tapeo is such a popular pastime is that many establishments offer a free drink when you buy a tapa or a pincho (as they are often called). Tapas bars represent a cheap alternative to expensive restaurants in times of economic crisis.
Another reason for the popularity of tapas is that there are many different types. Andalusian tapas can be eaten hot or cold. The hot ones usually consist of fried fish or stews (typically served in individual clay pots) and the cold ones include sandwiches or salads.
The tapas and food in Andalusia and the rest of Spain represent a diverse cuisine that can be sampled at a very economical price.