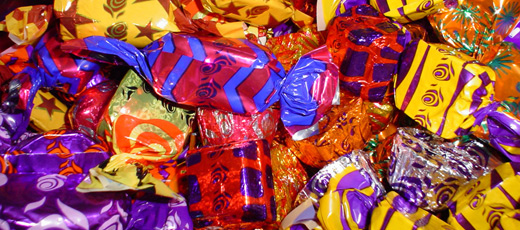 Spanish Christmas Sweets. Discover the traditional Spanish Christmas sweets are and serve them in your own Christmas table!
Christmas in Spain
The Christmas period of December 24th and January 7th is the time in which Spaniards, both young and old, look forward to eating the special sweet things that begin to appear on the supermarket shelves and in the windows of pastry and bakery shops in the Spanish Peninsula.
Christmas in Spain is all about sweets, thus one is certain to always find an elegant tray filled with homemade or store-bought Christmas delicacies in almost every Spanish house. Production of these Christmas sweets begins months before the holiday season in anticipation to the popular demands for them. The Spanish do and give in to sweet temptations... and so should you. Discover what these sweets are and serve them in your own Christmas table!
Polvorones
These typical Spanish Christmas sweets are often compared to biscuits, but with a drier consistency. Polvorones are popular because they crumble into an almond and butter flavoured powder (among others such as vanilla, cinnamon, etc) that dissolves in your mouth on the first bite, hence its Spanish name "powdery cake". The best ones are elaborated in Estepa, in the southern region of Andalucía.
Mantecados
Are traditional "biscuits" very similar to polvorón for its crumbly, light consistency, but are made mainly from lard and sugar. Most common mantecados are cinnamon flavoured, yet are also sold in a variety of different flavours such as aniseed. The mantecado dates back to the sixteenth century with Antequera and Estepa, two towns in Andalucía, both claiming its origins.
Roscón de Reyes ("Rosca" in Latin America)
Sold throughout the country and traditionally consumed on January 6th (Three Kings' Day), the roscón is a large, round bundt bread that is covered in glaze and topped with fruit jellies and powdered sugar. Two special surprises are baked inside: either a coin or a baby Jesus figurine and a dried bean (called "haba"). According to custom, whoever finds the coin or baby Jesus figurine will have good luck in the New Year and whoever finds the haba must pay for the roscón.
Turrón
This traditional Spanish nougat of Moorish origins is carefully elaborated using honey- roasted almonds and lots of caramel, leading it to be by far the most popular of all Spanish Christmas sweets. Turrón is available in three textures: the blando (soft ground almond paste), the duro (hard nougat), and chocolate (mixed with toasted almonds or puffed rice); with the blando being the specialty of the town of Jijona, and the duro of Alicante. Other varieties include coconut, fruit jellies, coffee, raisins with rum, whiskey, truffles, oranges, etc.
Mazapan
There's a good reason why the Spanish town of Toledo is the producer of the finest marzipan in all of Spain. Legend goes that during a food scarcity, Toledan nuns used eggs and almonds (the only ingredients left in their pantry) to confection a sweet almond paste that saved the town from starvation. Today, mazapanes - as they are known in Spanish - remain a popular Christmas delicacy prominent of Toledo, where it is elaborated using same the centuries-old recipe of the nuns. They are traditionally available in various colours, and moulded into shapes or intricate figurines. Some may be stuffed with egg yolk or marmalade.
Tronco de Navidad
A spongy Christmas cake roll that is layered with mousse (or any flavoured creamy filling), covered with thick chocolate frosting ("grooved" to imitate the bark of a tree) and decorated with marzipan holly leaves, mushrooms, raspberries, etc. It is an exquisite cake that resembles a wooden Yule log - honouring the Christmas tradition of the large Yule log placed in the hearth to supposedly burn for the 12 days of Christmas.
Marquesas
Are very thin and spongy square cakes made of from the mixed dough of ground almonds and marzipan paste. They are completely covered with confectioner's sugar and taste like almonds with a slight hint of lemon.
Panettone
This round and tall cake characterized by its puffed dome shape filled with fruit jellies is a very popular Christmas dessert in Spain where it is nationally elaborated, even though its origin is Italian. In Spanish, it is called Pan de Oro (golden bread).
The majority of Spanish Christmas sweets seem to contain almonds or other types of nuts or fruits, such as piñones (pine nuts), fruta escarchada (sugared jelly fruit), pasas (raisins), higos (figs), dátiles (dates) and more. However, the most important holiday treat Spaniards really go crazy for is the jamón Serrano (more so if it's the delectable and cherished jamón ibérico, Spanish Iberian ham)…. Ok, so ham is not exactly a "sweet" or a "dessert", but don't tell that to a Spaniard.