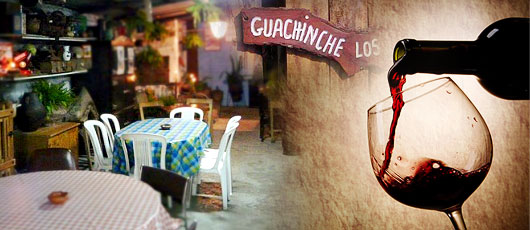 Guachinches in Tenerife. Guachinches are popular meeting places for Canary Islanders - they are generally unknown to tourists.
Travelers flying into Tenerife get an aerial view of the green vegetation that carpets the north side of the Teide volcano (or the Padre Teide as locals affectionately refer to it), located in the heart of the island. Banana trees, tomato plants, and flowers flank the coastline while forests of pine trees sit above one thousand meters. Vineyards also grow midway up the volcano in an area known as las medianías. Wine is one of the most traditional agricultural products on the island, where a surface area of just over 2,000 produces five different wines that bear Spain's prestigious denominación de origen label). Although you can find wineries here of great international prestige, the greater focus is on small family wineries that dot the island's northern region. Agricultural traditions are centered on small farms, and there are a number of farmers (known as magos) who own modest pieces of land on which they grow potatoes, corn, cabbage, and of course a few vines for producing wine.
Canary Wine
Wine from these islands has been recognized and highly valued since Shakespeare's time (several of his works sing the praises of Canary wine). Since the 17th century, farmers have been setting up small stands to sell their products to the British, avoiding having to pay intermediary fees. The name guachinche is said to come from a misunderstanding between British clients, possibly saying "I'm watching you" to mago venders with limited English skills who understood "¿Hay un guachinche?" (is there a guachinche?)
But what exactly is a guachinche? On the north side of the island of Tenerife, in the towns of Tacoronte, El Sauzal, Tegueste, La Matanza, La Victoria, Santa Úrsula, La Orotava, and Los Realejos, you can find road signs that say "Se vende vino" (wine sold). The signs indicate that you are near a rural home in which the owners have designated a space for serving their own wine and a meal to accompany the drink. These "traditional restaurants" are guachinches, and there are over 200 of them in the Valle de la Orotava area alone.
While guachinches are popular meeting places for Canary Islanders, they are generally unknown to tourists. They don't serve soft drinks or beer: they have wine. The house wine, period.
These family establishments remained on the fringes of the law (but not outside of it) until recently, when the governor of the Canaries limited the licenses issued for opening them. Wine sold in the guachinche has been produced during the year, and when the production ends the business is closed. Traditional and delicious home-cooked Canary Island meals are also served. Guests can expect to try dishes such as: papas con mojos, carne de fiesta, escaldón de gofio, and grilled meats or fish (especially cod) with sautéed onions. There is also no shortage of fresh and delicious goat cheese and lupin beans for snacking on while enjoying wine and waiting for meal orders to arrive.
One more important custom of these guachinches is how wine is sold. When you order your "cuarta", "media" or "litro", it will come straight out of the barrel. Do not be surprised if the cuarta (250 ml.) you have purchased –white or red wine depending on the guachinche- comes in a carefully washed orange juice or mineral water bottle. Everything gets recycled here.
The only problem with guachinches is that they are not usually located in town but instead in the countryside, in places that must be reached by car. It is important that the designated driver does not drink wine. Another recommendable alternative is to go by taxi and arrange with the taxi driver to pick you up a couple of hours later… that way everyone can enjoy the wine. Public transportation is quite reasonably priced on the island compared with other touristic areas.
Any visitor to Tenerife hoping to participate in local traditions must visit one of these temples of home-style wine; it is a special chance to experience the relaxing atmosphere, the delicious cooking traditions, and the friendliness of Tenerife.