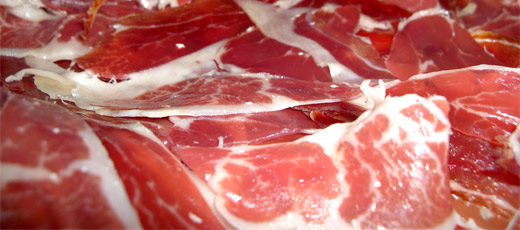 Iberian ham Jamón Ibérico, is learn for its pata negra (top quality). Iberian ham comes from the back legs of Iberian pigs, dried with salt and cured.
The famous Spanish saying "Del cerdo me gustan hasta los andares" refers to the tradition of pork in Spanish gastronomy. Since time began, it has been central in the diet of families throughout Spain. But amongst this animal, there exists a very special breed, typical of the peninsular landscape: the Iberian pig.
The Iberian pig, of black colour, comes from savage wild boars, and the pigs imported to mainland Spain by the Romans. It has been bred in a state of half freedom in the pastures of western Castilia and Leon, Extremadura, Andalusia and parts of Portugal; in wooded areas of Holm Oak (Quercus ilex) and Cork oak (quercus suber), and the fruits of both trees, acorns, are the main source of food of the Iberian pig and reason behind its excellent taste.
Iberian ham comes from the back legs of Iberian pigs, dried with salt and cured. The curing process lasts between 8 and 36 months, during which the ham is looked after with much care, so that it gains the degrees of flavour, smell and humidity needed to be a product of excellence.
Iberico ham, known for its ´pata negra´ (top quality), is defined by three different types. The first of which, considered of a lesser quality, is normal Iberian ham and is called this because the animal from which it comes has been fed fodder. The second example is the mix fed ham, coming from an animal which has been fed on fodder but also on grass and acorns before its slaughter to give flavour to the meat. Finally, there is acorn fed ham, which comes from an animal which was been given grass and acorns to eat, whilst in a state of partial freedom. The last is the most liked because of all its qualities.
The areas producing Iberian ham are controlled by the regulating council for guaranteeing origin, which forms part of the ministry of environment, countryside and sea within the Spanish government. They are: Iberian ham of Huelva, Iberian ham coming from Los Pedroches, Iberian ham from Guijuelo, and Iberian Ham coming from the fields of Extremadura (Jamón Ibérico D.O. Jamón de Huelva, Jamón bérico D.O. Los Pedroches, Jamón Ibérico D.O. Jamón de Guijuelo, y Jamón Ibérico D.O. Dehesa de Extremadura). The guarantee of origin and the quality of the part has to be indicated on its identity label.
But from this magnificent animal not only comes ham, but one can find hundreds of products that come from other parts: shoulders, loins, chorizo, spiced sausages, ears, snout, foot, tail and many meat products, making the pig an animal of which you can appreciate everything.
A visit to Spain is well worth trying some of these products and, of course, enjoying the tastes of good portions of acorn-fed ham. You'll never forget the taste!