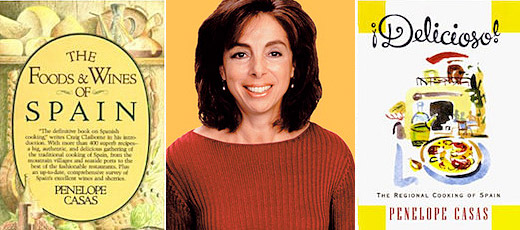 Penelope Casas. This American woman with Greek heritage became the leading promoter of Spanish cooking in the United States.
The Woman Who Brought Spanish Cooking to the USA
It may surprise many that the person who single-handedly made Spanish Cooking popular in the United States would be a Greek-American woman from Queens, New York. But Penelope Casas (May 25, 1943 – August 11, 2013) managed to take her love for everything Spanish and convert it to some of the most important English language cook books of Spanish cooking. Among her works is the first and all important The Foods and Wines of Spain (1982), Tapas: The Little Dishes of Spain (1985) and the posthumously released 1,000 Spanish Recipes (2014). Because of Casas' influence, Spanish cuisine has now been able to carve out niche for itself in a country where before Spanish and Mexican cooking were almost synonymous.  
Penelope Fexas was born in Queens, New York to Immigrant parents Achilles and Antonia Fexas. She also had a brother Tom who was a successful designer of racing yachts. After attending private school Queens, Penelope enrolled in Vassar College. At Vassar, Penelope majored in Spanish literature and as a part of her studies she went a semester abroad to study in Madrid. As fate would have it her host family had a son, Luis Casas, who was also a university student on his way to becoming a physician. During this experience not only did she fall in love with a country and a cuisine, she also found her future husband.
Her first years of marriage to Luis Casas were spent in Madrid while her husband completed his medical studies. It was during this time that she was able to travel across Spain and indulge her passion for cuisine and the Spanish language. Not only did she sample the delights and regional specialties, she also worked in the kitchens of the restaurants she liked the most. It was this way that she was able to learn the best cooking methods and discover the best ingredients to use in each plate. It was also during this time (the mid 1970's) that there was a gastronomic revolution taking place in Spain at the hands of legendary chefs Juan Mari Arzak and Pedro Subijana. La Nueva Cocina Vasca (nouvelle Basque cuisine) was revolutionizing the Spanish kitchen in a way that rivaled the nouvelle French trend happening on the other side of the Pyrenees.
Penelope travelled there with her husband to experience first-hand culinary revolution and was not disappointed. Using her incredible people skills, she was able to work her way into their kitchens to see the techniques they were employing and she even went to the local markets with them to see what ingredients they were using in their recipes. She was even invited during this time to Roses to try a meal at a new avant-garde restaurant, El Bulli, and met with Ferran Adrià during a dinner that lasted form 10 pm to 3 am.
After moving back to the United States at the end of the 70's, Penelope was reading the New York Times culinary section one day and came across an article about Spanish cuisine and its associated recipe by renowned food writer/critic, Craig Claiborne. Penelope found that a dish mentioned in the article was misspelled and its recipe was also incorrect. The dish was "angulas" (not "anguilas") and the dish was angulas tossed in olive oil. Penelope then wrote a cordial letter correcting the writer who quickly dismissed her and wrote her back insisting that he was correct. Not backing down, Penelope responded with ample evidence to show that she was, in fact correct. Claiborne, impressed with this well studied and tenacious woman, invited her to cook him a real Spanish meal which she willingly obliged.
After having eaten an exquisite meal from the kitchen of Penelope and taken aback by her thorough knowledge and experience with Spanish cooking, Claiborne contacted his literary agent. From this relationship arose Penelope's first book: The Foods and Wines of Spain (1982). Not only was this a book full of recipes, Penelope took great pains to describe Spanish culture and ingredients. Penelope understood that the Spanish kitchen is much more than just a way to feed oneself; it is an vehicle full of tradition and cultural implications. It was this spirit that she would continue to convey in all of her work, including Tapas: The Little Dishes of Spain (1985), Delicioso! Regional Cooking of Spain (1996), Paella! Spectacular Rice Dishes From Spain (1999), and La Cocina de Mama: The Great Home Cooking of Spain (2005).
Penelope passed away in 2013 but thanks to the work of her husband and daughter, she has been able to posthumously publish one last gem: 1000 Spanish Recipes (2014). This book is a compendium of her 50 years of cooking and learning about Spanish cuisine. This book takes the reader all over the country allowing the reader to enjoy authentic regional delicacies.
Few people have done so much to expose the United States to the culture and tradition of Spain. Penelope Casas fell in love with Spain and its people and, most of all, its cuisine. This love will continue to live on through her recipes and writing which is a testimony to her relentless pursuit of showing the world what Spanish cuisine really is and what it isn't.